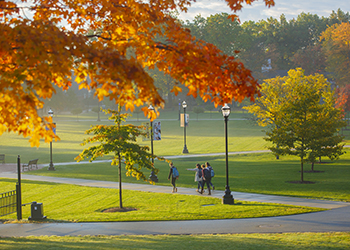 This section is primarily for users of the college's content management system (CMS). Other college Web users can benefit from some items in this section as it outlines the text styles, color usage, and image formats used in the Saint Anselm Web site.
In order to ensure visual consistency throughout the site, it is important to follow these guidelines as closely as possible. Variations from this standard will be reviewed and approved by the Office of College Communications and Marketing.
Writing for the Web
Web content should be as brief and concise as possible. People scan web pages for the information they need rather than read word for word. All content should therefore be edited and optimized for viewing online before being posted on the college Web site. And, always keep mobile-readable content in mind.
Important Facts

The first and most important fact to understand about Web use is this:

People don't read Web pages, people scan Web pages.

Several studies support this premise. Web usability gurus John Morkes and Jakob Nielsen found that 79 percent of test users always scanned any new page they came across, while only 16 percent read word-by-word.

Web users seek specific information, or they browse in the hope of finding items of interest. They scan the page, searching for words that pique their interest. Huge blocks of brochure-like text that visitors have to wade through just to determine if your site is valuable overwhelm people.

Write for the reader, not for yourself
Always keep the reader in mind. Think of them as busy, impatient people who are on the Web to find out something quickly [The Web Content Style Guide, 2002].

To write efficiently for your Web audience:

First ask yourself, what's my point? Start with the conclusion (the inverted pyramid method of writing) and think mobile.
Keep sentences brief
Use a single space after sentences. Web writing never uses double spacing.
Use clear, concise prose (avoid using clichés and modifiers)
Highlight keywords
Chunk ideas into short paragraphs
Employ meaningful subheadings
Use bulleted and/or numbered lists

Most importantly, halve the amount of content.

Use fewer, more precise words to make your message stick. Your content must be optimized for the way people navigate the Web.

Text and Graphics

Body content, headlines, and headers should always be left justified, never centered.
Page titles and Body headers should always be written with initial caps. Correct: About NHIOP / Incorrect: about NHIOP. Header size, h3, is the recommended in Body copy.
Copy styles are managed by the Drupal stylesheets; Body should include Normal headers (bold), and Heading 3 (under Format)
Avoid complex tables which contain merged cells or rows, as these become distorted on some devices.
Do not underline hyperlinks (Web addresses). They are automatically preprogrammed to turn light blue and include a color change rollover action when they are created. If you need to call attention to certain words, use bold text (limit italicized text as it can be difficult to read on smaller devices).
All imported images must be saved as gifs or .jpg files at a minimum resolution of 72 dpi for on-page Body photos, recommended size of 350w x 250h (horizontal) and 250w x 350h (vertical) or smaller in accordions, and high resolution 300 pixels/inch photos for banners sized to 1600w x 600h (and Subsite heroes sized to 1600w x 856h). (Pre-size and compress/optimize images in a program like Adobe Photoshop Elements before adding to the CMS (available for $39 from the Office of Information Technology)). On-page photos should be right justified (seldom are they left) on a page and never centered, and a caption used.
Use images to support and enhance text, not overwhelm the page.
Do not use animated or still clip art images which can appear as amateurish to visitors.
When you are using images, always include a line of descriptive text in the "text" box when you are inserting the image; this provides alternate text (alt tags) for screen readers used by the visually impaired.