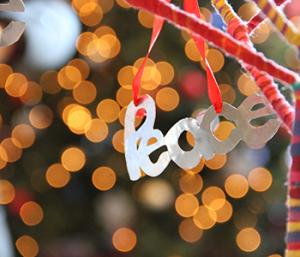 Let us be numbered among those who stay awake, living at the ready, saying "yes" to all of the invitations of grace given to us during this wonderful season of Advent.
On Sunday, November 28 we begin the Advent Season. What is Advent? The word advent comes from the Latin adventus, meaning coming or arrival. In the Church's liturgical calendar, Advent is the season of hope in which we prepare to celebrate the commemoration of the first coming of Jesus Christ and look forward to his Second Coming. 
While these two perspectives constitute the Church's official understanding of the season, Advent suggests yet a third coming, one by which the season becomes more than just a time of year, and the liturgy more than mere ceremony: it is the coming of Christ within us. During Advent, the Incarnation should become a personal experience of Christ growing within us through the power of the Holy Spirit.
During this season our society tells us to hurry - get this bargain - shop here - so many shopping days until Christmas. Our faith invites us to slow down - to wait - to prepare. Such contradictions! In order to assist us a little in the slowing down process, Campus Ministry offers Advent Reflections. This will provide you with a time to stop, to read and to reflect a bit on the message of the Advent season.
Advent Programs and Services
Campus Ministry in conjunction with the college offers a variety of programs and services during Advent. Due to the early end of the semester, of our Advent programming will be virtual. Follow us on Instagram @stacampusministry to stay updated on our programming and videos.
Advent Reflections
Members of the Anselmian community have written daily reflections throughout Advent. A simple reminder to slow down, reflect, and prepare for this Holy season. Reflections are written by faculty, staff, monks, students, and alumni.
Christmas Giving Tree
To benefit Ascentria Foster Care Alliance and Waypoint. For more information please contact: Joycelin Raho at jraho@anselm.edu or 603-641-7170
DecemberSong
Performance of songs of the Advent and Christmas Seasons by the Saint Anselm College Choir.
Christmas Tree and Manger Blessing
Traditional Blessing of Manger Scene and Christmas tree in front of the Jean Student Center with Christmas Carols. For more information: Fr. Francis at fmccarty@anselm.edu. 
Advent Prayer Cards, Christmas Cards and Books
Advent Prayer Cards, Christmas Cards and Books are available for purchase in Campus Ministry Office in the Jean Student Center.
* Visit the United States Conference of Catholic Bishops website for additional resources for Advent and Christmas.
Celebration of the Eucharist in Advent
Abbey Church
Monday - Friday: 5:15 p.m.
Wednesday: 9 p.m.
Saturday: 11:50 a.m.
Sunday: 11 a.m. & 7 p.m.
For the Mass & prayer schedule visit Saint Anselm Abbey
---
Solemnity of the Immaculate Conception – December 8th
Mass is celebrated at 12:00pm (Lower Church) & 5:15pm (Abbey Church)
---
Sacrament of Reconciliation (Lower Church)
Mondays & Fridays – 4 p.m. to 5 p.m.
Wednesdays: 7:45 p.m.
December 4th – In the Lower Church following the 7 p.m. Sunday Mass
The Solemnity of the Nativity of the Lord
December 24th
Vigils & Lauds - 6 a.m.
Mass with Celebration of the Anointing of the Sick - 8:30 a.m.
Daytime Prayer - 12 Noon
1st Vespers of Christmas - 5:35 p.m.
Vigils of Christmas - 7:30 p.m.
Vigils features the singing of the Roman Martyrology & Blessing of the Abbey Church Manger Scene.
December 25th
Mass During the Night - 12 Midnight
Lauds - 8:45 a.m.
Mass During the Day - 11 a.m.
2nd Vespers of Christmas - 5 a.m.
The Solemnity of Mary, the Mother of God - January 1st