People Want to Move to the Suburbs - Will We Let Them?
By Jason Sorens | April 24, 2020
Housing prices and rents might fall due to the economic crisis occasioned by the covid pandemic and social distancing, but the most apparent trend in housing right now is a flight to the suburbs and countryside. In the Boston area, realtors report that city residents are looking for homes in the suburbs. New Yorkers have also fled the city during the pandemic, with phone GPS data showing that the wealthy have been best able to leave, while the poor largely stay put.
It would not be surprising if these trends continue provided that the covid virus stays around for months or years. The pleasures of the city - restaurants, concerts, sporting events, lectures, even the ability to see one's friends at a moment's notice - are social. If those avenues for enjoyment are closed off, then city life becomes much less attractive.
Now, cities are no worse off than suburbs when it comes to spread of the virus itself. The NYU Furman Center did an analysis of neighborhood infection rates in New York City and found that dense neighborhoods had no higher infection rates than lightly populated neighborhoods. Instead, infection rates correlated with the number of people crowding into homes, which is why social distancing requires more housing. So if people are trying to move to the suburbs to escape the virus, they're going to be sadly disappointed. It's more reasonable to think that a flight to the suburbs could happen if social distancing disrupts urban lifestyles.
But if people want to move to the suburbs, will the governments of those towns allow them? In New Hampshire, inner-ring suburbs tend to regulate home-building more severely than central cities do. The map below is based on data from a forthcoming study of mine for the Josiah Bartlett Center for Public Policy. Darker colors indicate stricter residential zoning regulations.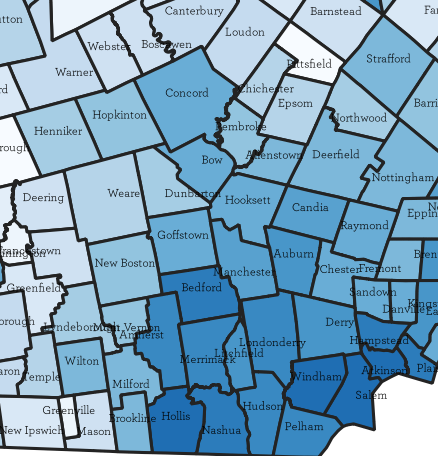 Note that cities tend to be a bit lighter than surrounding areas. Nashua is less regulated for housing than Hollis and Windham, but a little more than Merrimack and Litchfield. Manchester is less regulated for housing than Bedford, Londonderry, and Auburn, but a little more than Goffstown and Hooksett. Concord is the exception: it is more regulated than surrounding towns except Bow, but this may have something to do with the fact that most of Concord's population actually lives in suburban, single-family neighborhoods, and some of the surrounding towns are downright rural.
This urban-suburban difference in zoning restrictiveness matches what we have seen in some conversations with housing advocates working in suburban New Hampshire communities. Some suburban voters believe that the cities should be the only places to build new housing, while city officials blame the suburbs for the state's housing crisis.
In reality, the only places that seem to be wide-open for new housing in New Hampshire are rural communities. Both cities and suburbs could do more. But the further problem is that if housing demand shifts toward the suburbs and away from the cities, New Hampshire's suburbs right now have ordinances that won't let property owners build new homes to meet that demand.
In the face of suburban restrictiveness in New Hampshire, the wealthy now have better access to suburban life than do middle- and low-income households. To give everyone a fair shot at the suburban lifestyle more Americans are now valuing, the suburbs will need to allow more homes to be built.