Banned Books Week Book Discussion: Go Tell It on the Mountain
September 27, 2021 | Geisel Library
To kick off Banned Books Week, we'll be discussing Go Tell It on the Mountain by James Baldwin.
---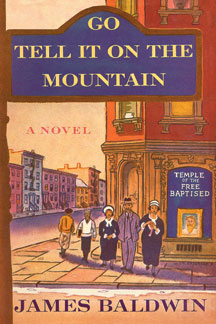 In one of the greatest American classics, Baldwin chronicles a fourteen-year-old boy's discovery of the terms of his identity. Baldwin's rendering of his protagonist's spiritual, sexual, and moral struggle of self-invention opened new possibilities in the American language and in the way Americans understand themselves.
With lyrical precision, psychological directness, resonating symbolic power, and a rage that is at once unrelenting and compassionate, Baldwin tells the story of the stepson of the minister of a storefront Pentecostal church in Harlem one Saturday in March of 1935. Originally published in 1953, Baldwin said of his first novel, Mountain is the book I had to write if I was ever going to write anything else. - Description from Bookshop.org
---
Challenged in both Hudson Falls, NY (1994) and Prince William County, VA (1988), it's been opposed because there are recurring themes of rape, masturbation, violence, and degrading treatment of women.
Pick up your copy (to borrow) from the library - just ask for it at the Circulation Desk!
We'll be celebrating Banned Books all week from September 26 to October 2 - check out what else we're doing, on our Banned Books Week guide.
Date/Time
September 27, 2021 from 12:30 PM - 1:20 PM
Location Information
Additional Information
Copies available to borrow at the Circulation Desk.
Add Event to Calendar 2021-09-27 16:30:00 2021-09-27 16:30:00 Banned Books Week Book Discussion: Go Tell It on the Mountain To kick off Banned Books Week, we'll be discussing Go Tell It on the Mountain by James Baldwin. In one of the greatest American classics, Baldwin chronicles a fourteen-year-old boy's discovery of the terms of his identity. Baldwin's rendering of his protagonist's spiritual, sexual, and moral struggle of self-invention opened new possibilities in the American language and in the way Americans understand themselves. With lyrical precision, psychological directness, resonating symbolic power, and a rage that is at once unrelenting and compassionate, Baldwin tells the story of the stepson of the minister of a storefront Pentecostal church in Harlem one Saturday in March of 1935. Originally published in 1953, Baldwin said of his first novel, Mountain is the book I had to write if I was ever going to write anything else. - Description from Bookshop.org   Challenged in both Hudson Falls, NY (1994) and Prince William County, VA (1988), it's been opposed because there are recurring themes of rape, masturbation, violence, and degrading treatment of women. Pick up your copy (to borrow) from the library - just ask for it at the Circulation Desk! We'll be celebrating Banned Books all week from September 26 to October 2 - check out what else we're doing, on our Banned Books Week guide. Geisel Library Saint Anselm College hosting@bostoninteractive.com America/New_York public