March Book Madness: Food for Thought
February 25, 2019 | Geisel Library
Geisel Library's 3rd Annual 
March Book Madness: Food For Thought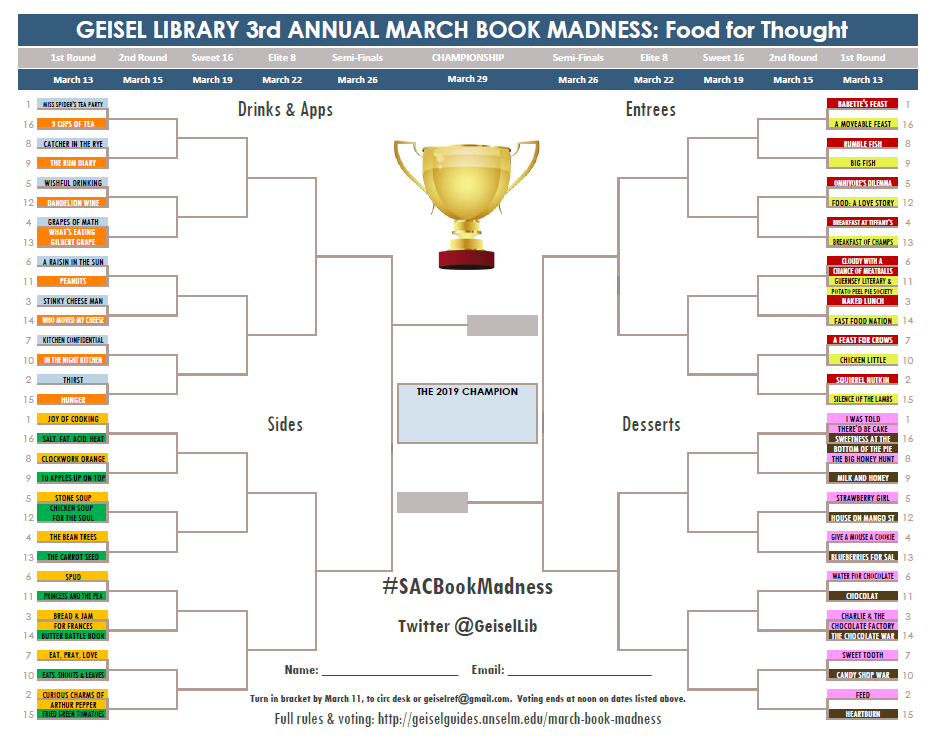 For the 3rd year, Geisel Library is celebrating March Book Madness Instead of college basketball teams we'll be pitting well-known books against each other, and it will be up to the Saint Anselm community to determine the winner.
This year's theme is food!
Fill out a bracket (printed copies available in the library) with your prediction of each round's winners, and then don't forget to vote in each round! Sign up for email reminders to vote, and watch our social media. #SACBookMadness

We'll be giving away gift cards to three players with the top-scoring brackets! So make sure you...
Fill out and return your bracket by March 11th!
Date/Time
February 25, 2019 12:00 AM - April 1, 2019 12:00 PM
Location Information
Contact Information
Add Event to Calendar 2019-02-25 05:00:00 2019-02-25 05:00:00 March Book Madness: Food for Thought Geisel Library's 3rd Annual  March Book Madness: Food For Thought For the 3rd year, Geisel Library is celebrating March Book Madness Instead of college basketball teams we'll be pitting well-known books against each other, and it will be up to the Saint Anselm community to determine the winner. This year's theme is food! Fill out a bracket (printed copies available in the library) with your prediction of each round's winners, and then don't forget to vote in each round! Sign up for email reminders to vote, and watch our social media. #SACBookMadnessWe'll be giving away gift cards to three players with the top-scoring brackets! So make sure you... Fill out and return your bracket by March 11th! Geisel Library Saint Anselm College hosting@bostoninteractive.com America/New_York public