Noise Level Changes in the Library
January 29, 2018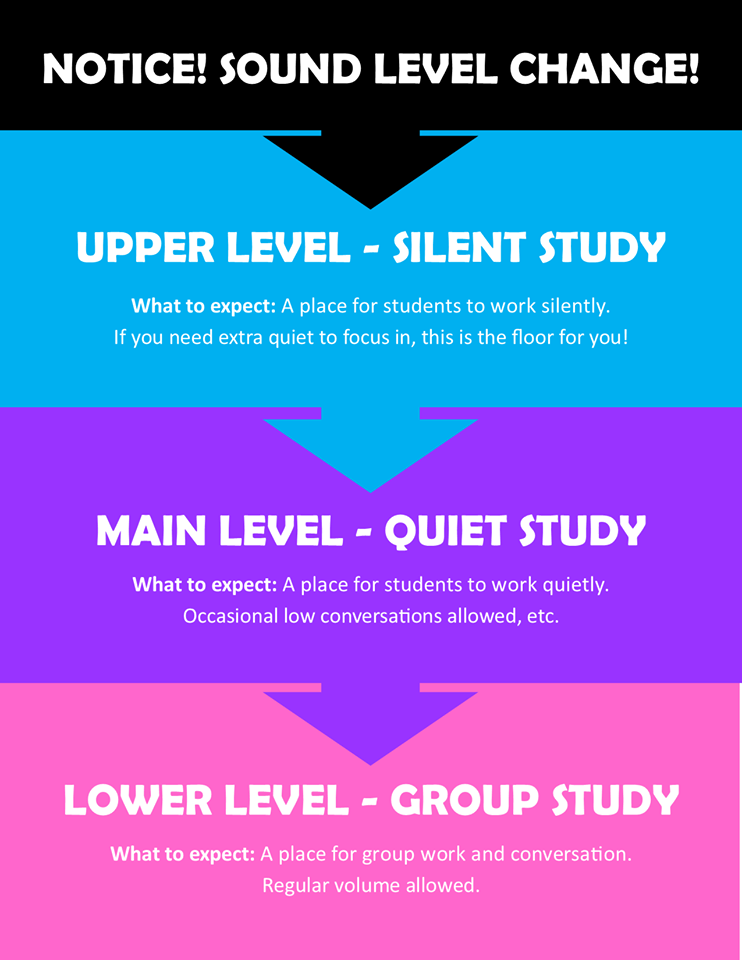 Academic libraries are facing unique challenges in regards to study space. Much of this is centered on the changing nature of academic coursework. Group projects are becoming ever more common on college campuses. Due to the collaborative nature of group projects students need space where they can work together to complete their projects and assignments. Over the past ten years Geisel Library has seen a growth in students requesting group study space as well as a quieter study space where they can study and still have occasional conversations with their friends and classmates. These two requests are in tandem with continued student demands for a completely silent study space – an area in which they can study without distraction.
To respond to these needs, we are now designating appropriate sound levels for each floor of the library.
Patrons that want absolute quiet can go to tables and carrels on the upper level.
For those that prefer a study space that is generally quiet but has some background noise and allows for occasional conversations, the study spaces on the main level would be most appropriate.
The biggest change comes to the lower level of the library. Previously designated as the quiet study floor, this has now become the group study floor. Students can always try reserving one of our four group study rooms but when those are all reserved they can now work collaboratively on the lower level of the library. Normal volume level conversations will be allowed this floor. Any conversations exceeding normal volume levels will be asked to lower their voices. Please keep the lower level in mind as you search for space to collaborate with students outside of class time.