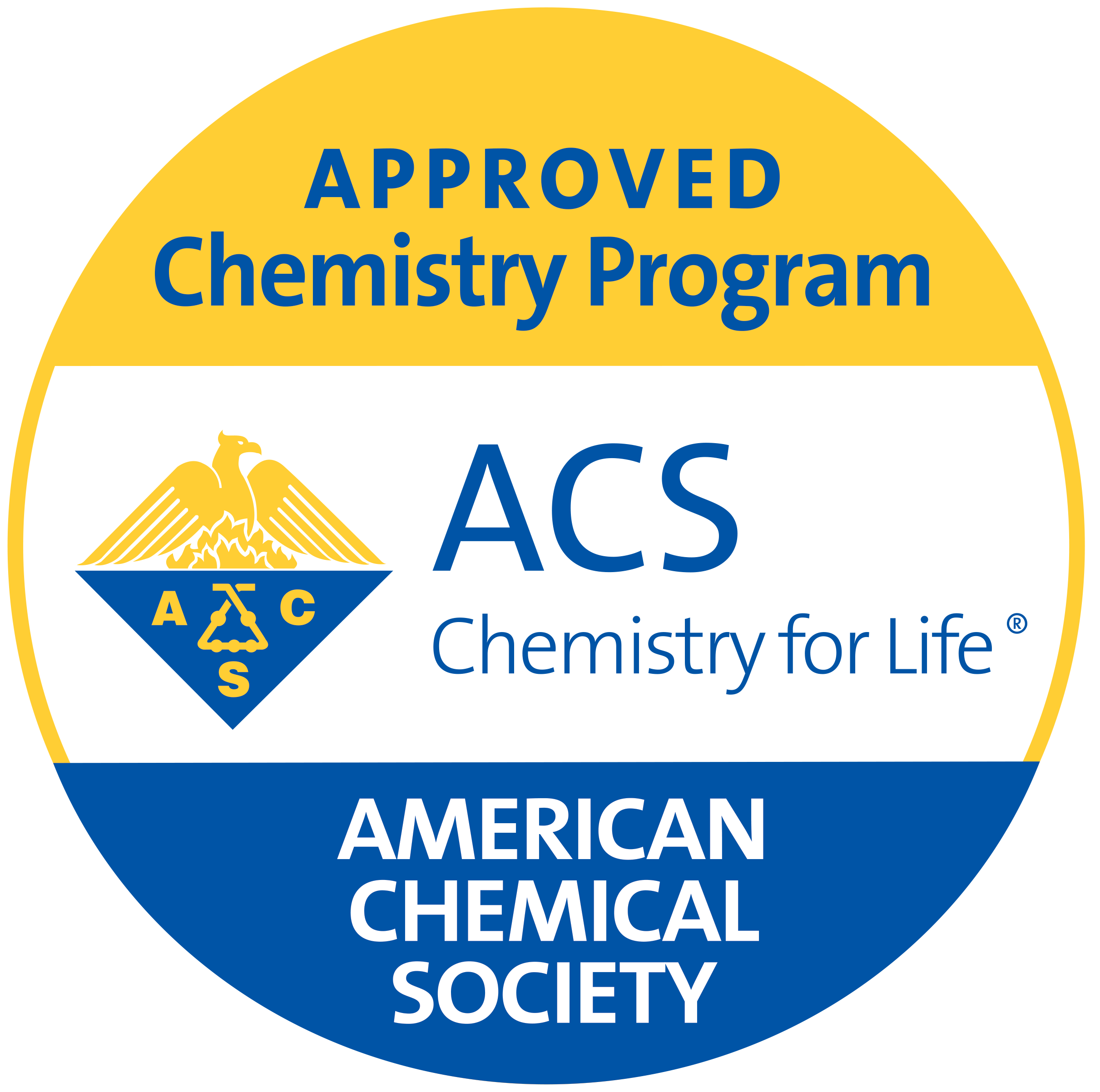 The Chemistry Department is in the third year of implementing a redesigned and reinvigorated curriculum to accurately reflect the interdisciplinary nature of the subject. Overall content will remain largely the same, but reorganized. This will allow for modern topics such as polymers, chemical biology, chemometrics, computational chemistry to be covered more fully and allow students more choice in upper level electives. Completion of this curriculum will earn a Bachelor of Science (B.S.) degree in Chemistry. 
Course requirements shown below (from the College Catalogue) pertain to students graduating in the Class of 2022 and beyond.
The process of updating the curriculum centered around the learning outcomes the Department developed for the major, as seen here.  A student who has completed a degree in Chemistry from Saint Anselm College:
Has a solid foundation in chemical principles and theories;
Communicates chemical and/or biochemical information with clarity and coherence through writing and speaking;
Understands the theory behind and effectively utilizes state–of–the–art laboratory equipment and technology;
Develops research ideas in chemistry or biochemistry, and designs experiments to examine those ideas;
Recognizes and endeavors to solve challenges facing the discipline;
Applies chemical principles to phenomena of the natural world.
Students in the Class of 2021 should be sure to take:
Organic I & II (CH 250, CH 251); Analytical Chemistry I & II (CH 270, CH 310), Physical Chemistry (CH 280, CH 281), Inorganic I (CH 340), and Chemistry Research (CH 420, CH 421)
Students pursuing the ACS-certified degree should also take Inorganic II (CH 360), Integrated Laboratory (CH 425), Biochemistry I (BI 336), and at least one Chemistry elective. 
The Department of Chemistry is approved by the Committee on Professional Training of the American Chemical Society (ACS). Completion of the approved program leads to a Bachelor of Science degree in Chemistry with American Chemical Society Certification. Students who complete this program are well qualified for graduate study or professional employment.  Requirements listed here begin with the class of 2022.
Major requirements include:
MA 170 - Calculus I
MA 180 - Calculus II
PS 131 - Calculus-Based Physics I
PS 132 - Calculus-Based Physics II
CH 130 - General Chemistry
CH 150 - Structure and Reactivity
CH 251 - Reaction and Mechanism
CH 270 - Quantitative Analysis
CH 280 - Physical Chemistry I
CH 310 - Instrumental Analysis
CH 330 - Chemistry of Biological Systems
CH 340 - Inorganic Chemistry I
CH 420 - Research and Seminar I
CH 421 - Research and Seminar II
CH 425 - Integrated Laboratory
Select 8 credits from the following:
CH 281 - Physical Chemistry II
CH 282 - Chemical Kinetics & Dynamics
CH 305 - Computational Chemistry
CH 350 - Physical Organic Chemistry
CH 360 - Inorganic Chemistry II
CH 361 - Organometallic Chemistry
CH 372 - Characterization of Compounds
CH 380 - Physical Chemistry III
CH 402 - Special Topics in Chemistry

2 credits

(2 credits)

CH 405 - Special Topics in Chemistry

4 credits

(4 credits)

CH 406 - Special Topics in Chemistry with Laboratory

4 credits

(4 credits)
Note:
In consultation with the student's advisor, and with the permission of the department chairperson, advanced courses in Biology, Physics, Mathematics or Computer Science may be substituted for Chemistry electives.  CH 270, 370, and BI 336 may be taken in any order.