The NHIOP Welcomes Governor Asa Hutchinson for Politics and Eggs Series
May 2, 2022
On Monday, April 25, the New Hampshire Institute of Politics (NHIOP) at Saint Anselm College welcomed the current Governor of Arkansas, Asa Hutchinson for the Institute's famous Politics and Eggs series.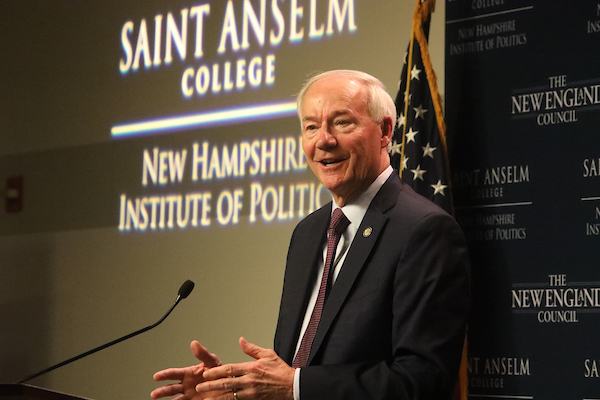 New Hampshire Governor Chris Sununu introduced Hutchinson to the stage and spoke highly of his character, saying: "As politicians, we tend to talk at people. But Asa is one of those that when you have that discussion, he makes the eye contact and you go wow he's really listening." 
 Hutchinson spoke about some of the current events in American politics, such as the midterm elections and characteristics he looks for in future Republican elected officials.
 "We need to have leaders today that are passionate about what they fight for and principled, but they also need to work hard and come together when elections are over," said Hutchinson. 
 Members of the audience then had their photos taken and eggs signed by Hutchinson.
 Hutchinson has served as the 46th Governor of Arkansas since 2015 and was re-elected in 2018. During this time, he has been praised for his continuous work on increasing computer science education, cutting taxes by $250 million, and signing a law that exempts the retirement pay of veterans from state income tax. He is also the current chair of the National Governors Association and was appointed by President Ronald Reagan to be the U.S. Attorney for the Western District of Arkansas in 1982.
 Here's a snapshot of the coverage from his visit.
 WMUR-TV, Arkansas Governor Speaks at Politics and Eggs Event in NH
 DAUM Online, USA Hutchinson New Hampshire Visit
 EPA (European Press Photo Agency), Arkansas Governor Visits Politics and Eggs Forum
Yahoo! News, Hutchinson: Trump reelection campaign wouldn't affect decision on presidential bid
The Guardian, Trump or no Trump: Asa Hutchinson mulls run for president in 2024