Saint Anselm Students Attend Harvard Conference for Political and Civic Engagement
February 24, 2020
Every year, student ambassadors from the New Hampshire Institute of Politics (NHIOP) attend the Harvard Kennedy School Institute of Politics' National Campaign for Political and Civic Engagement. This year, participants from 35 colleges and universities who attended the event also travelled to Saint Anselm College to spend time at the NHIOP taking in the political energy created by New Hampshire's first-in-the-nation Primary. 
The annual meeting at Harvard University opens the door for conversations about civic and political participation, as well as developing the best practices for increasing democratic engagement on college campuses.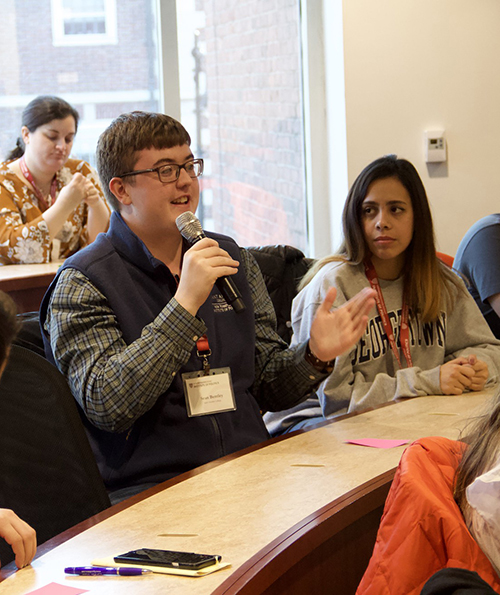 Kevin B. Harrington Student Ambassadors Brendan Mills '20, Thomas Meal '20, and Sean Bentley '22 represented Saint Anselm College at the 2020 conference, which was held February 7-9.
Since 2003, the Harvard Kennedy School Conference has united students and administration from colleges and universities across the country. This year, representatives from schools such as Elon University, Harvard University, Georgetown University, Rutgers University, and Tufts University were in attendance. 
Through the conference students interacted with fellow leaders from other colleges. "This really enhanced my understanding of different regional cultures and helped me to learn about their unique experiences in government, some of which I may wish to pursue in the future," Bentley remarked. 
Saint Anselm students expressed excitement for this event. "It is a good networking and learning opportunity for the personal student. But the experience also has the ability to benefit the campus community, depending on what the attendees do with their experience," said Mills. 
On Friday evening, attendees joined with fellow students from the Public Policy Leadership Conference, hosted by the Harvard Kennedy School's Office of Diversity, Inclusion, and Belonging. A discussion about student activism was followed by a group dinner. The night closed out with a Democratic Debate watch party, broadcasted live from Saint Anselm College's Sullivan Arena. 
On Saturday, to give conference attendees a taste of the action, they travelled to the Hilltop where they heard from NHIOP Executive Director Neil Levesque about the Institute and its role in New Hampshire politics. They also heard from Saint Anselm College politics professors Christopher Galdieri and Jennifer Lucas, who discussed the Iowa caucuses and the importance of the New Hampshire Primary. Finally, the group had a surprise visit from Democratic presidential candidate former Massachusetts Governor Deval Patrick who happened to be on campus.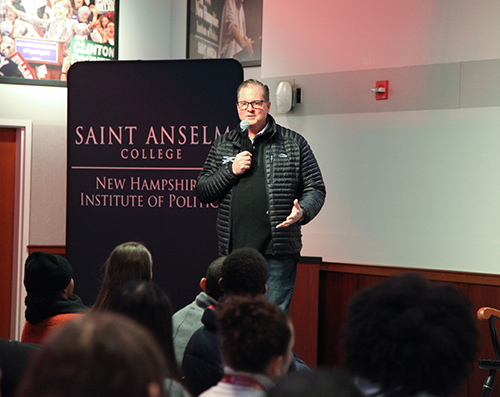 Saint Anselm, home of the NHIOP, gives students unique political opportunities unlike any other. Bentley was already aware of this, as other conference attendees were awestruck by the hustle and bustle of political life on campus. 
Bentley said, "Many of these folks came from campuses where the students are not as active in politics as [we are] up here at St. A's, and they do not enjoy the same access to the politicians we enjoy here."
The conference concluded Sunday morning at the Harvard Kennedy School with discussions and networking opportunities. Throughout the weekend, students engaged in issues such as youth activism, easier voter access, action planning, and community engagement. 
The students hope to carry their conference experiences back to Saint Anselm. "I definitely learned about different ways to promote change and activism. I hope to take these techniques and use them to promote voting movements and Relay for Life on campus," said Mills. 
Photos courtesy of Harvard Kennedy School's Institute of Politics.