2018 Graduates Commissioned into Military
May 23, 2018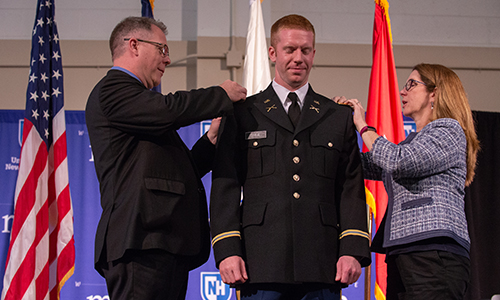 New Saint Anselm graduates Samuel Buran, Tyler J. Guilmette, Jacob A. Poore, and Andrew Walsh Shue have been commissioned into the United States Military. All four received their bachelor's degrees at the college's 125th Commencement on Sunday, May 20.
Poore and Shue were commissioned as second lieutenants in the United States Army on Friday, May 19. Their ceremony was at the University of New Hampshire, the host program for Army Reserve Officers' Training Corps (ROTC), in which the two have been participating since their freshmen year.
Poore was commissioned into the Military Police as a member of the National Guard and will be assigned to the 43rd Military Police Brigade in Rhode Island. He will attend his Basic Officer Leadership Course (BOLC) in Fort Leonard Wood, Mich. The resident of Salem, New Hampshire earned his Bachelor of Arts Degree in business.
Shue, commissioned into the infantry, will begin his active duty service at the end of June at Fort Benning, Ga., where he is assigned to the 199th Infantry Brigade to attend the Infantry Basic Officers Leadership Course (IBOLC) for 19 weeks. A major in politics and minor in history, Shue graduated magna cum laude.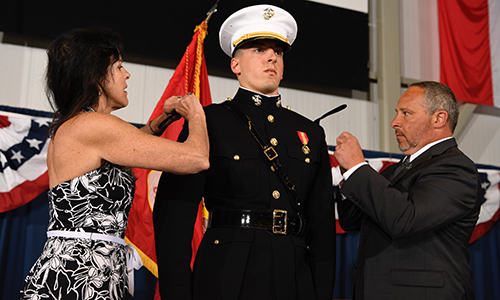 On Sunday, May 20 in the Thomas F. Sullivan Arena, Buran and Guilmette were commissioned as United States Marines, with the rank of second lieutenant. The two were recognized in a ceremony attended by family and dozens of classmates just prior to the college's commencement exercises.
Buran and Guilmette were pinned with the second lieutenant insignia and exchanged the first salute with the U.S. Marines in attendance. The mameluke sword, a symbol of the U.S. Marines since the branch's campaign over 200 years ago in Tripoli (a city in what is now Libya), was presented to Buran by his father, Robert Buran, Colonel USMC (retired). The awarding of the distinctive curved sword is considered one of the most honored traditions in the U.S. Marine Corps.
Buran, a criminal justice major from Carlisle, Penn., is a third generation Marine. He leaves for Quantico, Va., in June for Officer Candidate School (OCS). Guilmette, a criminal justice major and psychology minor from Danville, N.H., will join Buran in Virginia later this summer for his OCS. He hopes to become an infantry officer.  
Commencement
At Saint Anselm College's 125th commencement exercises, speaker and honorary degree recipient Cardinal Seán Patrick O'Malley, O.F.M. Cap., addressed 474 members of the class of 2018.
In Sullivan Arena, the college bestowed a Doctor of Divinity on Cardinal O'Malley. In addition, Saint Anselm conferred a Doctor of Business on Richard L. Bready '65, a Doctor of Humane Letters on Professor Emeritus John F. Romps, Jr., and a Doctor of Humanities on Eileen Stuart-Shor '71.
Related Links