483 Students Graduate from Saint Anselm College
May 16, 2020
On May 16, what would have been the class of 2020's
commencement day, Saint Anselm College celebrated its graduating seniors with a Celebration in Honor of the Completion of Graduation Requirements. The event streamed live from the Abbey Church where College President Joseph A. Favazza, Ph.D., addressed the class and then certified that they had completed their graduation requirements. Dean of the College Mark Cronin, Ph.D., then read each of the 483 graduates' names.
The event was part of a series of virtual tributes to the class of 2020 that occurred May 14-16 marking the Anselmians' graduation. Additional events included an online senior send-off with a formal toast, the annual Baccalaureate Mass concelebrated by the Monks in the Abbey Church, and a livestream of the sun rising over the Hilltop on Saturday morning, an Anselmian tradition on commencement day.
At the lectern in the Abbey Church, Dr. Favazza reminded the graduates of five things he hoped they would recall as alumni of Saint Anselm College. He told them to be thankful; remember they aren't the center of the universe; being smart is less important than being kind; great lives include failure; and, finally, there are three things that last: faith, hope, and love. He reiterated that attending Saint Anselm had given them the tools as life-long learners and thinkers, to remember and recall these things throughout their lives.
"Remember, your Saint A's experience has taught you to figure what is worth believing in, hoping for, and loving, and what is not."
He also shared how the class of 2020 has impacted his own experience on the Hilltop. On this day a year ago, he received the life-changing phone call asking him to become the 11th President of Saint Anselm College. "I am still learning, but you, class of 2020, played an important role in reminding me about Anselmian values. Particularly these difficult last two months, I have witnessed your resilience, patience, kindness and grace. In the face of it, I can only take my own advice and say 'thank you.'"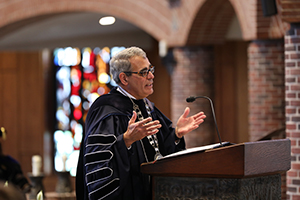 "Though on one level, you leave the Hilltop as students in this most unusual way, at another level, you take the Hilltop with you. You have made us proud as students; you will make us proud as alums."    
Although he was standing in the almost empty Abbey Church, Dr. Favazza's speech reached more than 1,600 people watching from their homes on the livestream.
Of the 483 students who earned their degree, 33 were conferred the degree of honors bachelor of arts, 358 received the degree of bachelor of arts, and 92 received a bachelor of science in nursing. Thirty-three students were named Summa Cum Laude, having achieved a GPA of 3.7
The Chancellor's Medal was awarded to accounting and mathematics major Chloe Ross from Franklin, Mass., who earned a 3.981 GPA, the highest academic average among her graduating peers. Br. Isaac Murphy, O.S.B., vice president for academic affairs, said it was his honor and privilege to announce Ross as the recipient; Abbot Mark Cooper, O.S.B., college chancellor, will present her with the medal at the rescheduled, in-person commencement.
Also in attendance was Vice President of Academic Affairs Br. Isaac Murphy, O.S.B., Vice President of Student Affairs and Dean of Students Alicia Finn, Sociology and Social Work Professor and Department Chair Tauna Sisco representing the faculty, and members of the monastic community. The celebration involved a limited number of college personnel and followed all the protocols necessary for an event during the coronavirus pandemic.
Baccalaureate Mass
On Friday, May 15, streaming live from the Abbey Church, Abbot Mark and the Benedictine monks concelebrated the Baccalaureate Mass. In his homily, Abbot Mark reminded viewers of the exceptional Saint Anselm College community emphasizing its strength and resilience and the impact the class of 2020 had on the community during its four years on the Hilltop.
"You, both as individuals and as a class have helped make Saint Anselm what it is, and helped set the direction for what it will become. Each one of you, in your own way, helped to form it, to give it its special character and you have left your unique and wonderful mark here upon your campus.  This place has been forever changed because of your presence and your choice to become one of us," Abbot Mark said.
"Members of the class of 2020, because of the unique ending of this year I can assure you of this: you will always hold a special place here on the Hilltop. You will be remembered for your fortitude, and endurance, for your resilience and determination, for your good spirit, and for taking care of each other in a most difficult time. It is a special honor which your goodness and your grace have earned for you: No earlier graduating class nor any to follow would ever begrudge you this special place in our hearts."
COVID-19 Changed Everything
When COVID-19 advanced rapidly across the country this spring, Saint Anselm College sent its students home to complete the semester through remote learning. The transition brought an abrupt end to campus life for the school year, something that has been particularly difficult for seniors.
Dr. Joseph A. Favazza promised the class of 2020 that commencement would be celebrated in person when the coronavirus has subsided to the point where a large gathering would be possible.
"Our graduating seniors demonstrated true Anselmian spirit when faced with the disappointing end to their time on the Hilltop," Dr. Favazza said. "We vowed to bring them back so we could celebrate their achievements as soon as it was reasonable to do so."
The college community has worked diligently to provide the class of 2020 with an experience that would not replace their commencement but would celebrate their accomplishments until their in-person graduation exercises occur at a later date.
A committee was assembled, including several seniors, to help decide what would be best way to celebrate and engage the class.
Parents and family members, as well as faculty, staff, alumni, and friends, submitted well-wishes to the class of 2020 congratulating them on their achievements. Submissions came from all over the globe demonstrating the pride for this special class.
Students were provided their caps and gowns and were encouraged to share photos of their celebrations at home on social media with the hashtag #SAC20.
Related Links