Academic Internships Bridge Classroom, Career
March 31, 2015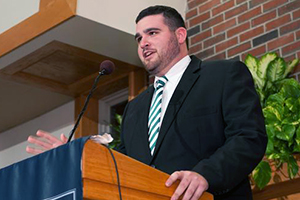 It's easy to see where David McKillop's passions lie when he says the most important aspect of his college experience at Saint Anselm is the school's "undying movement for bettering the community."
"Public service is something that I love," says McKillop, a senior politics major interning at the New Hampshire State House in Concord. "Saint Anselm has given me that opportunity with this internship. I'm learning a lot and doing what I hoped to do, and that is helping people, especially those who don't have a voice."
McKillop is among an increasing number of students pursuing rewarding, for-credit internships to gain valuable hands-on training that helps them become lifelong learners, able to apply the skills acquired through co-curricular activities that will prepare them for personal and professional growth beyond graduation.
In the 2013-14 academic year, upwards of 233 juniors and seniors participated in experiential opportunities offered through the Internship Office. This number comprises about 45% of the graduating class and is an increase of 10% from the previous year.*
Each semester, students also participate in academic service learning opportunities - a slate of over 30 courses - offered by the individual departments to serve those in need at home and abroad.
Expanding Opportunities for Networking and Career Knowledge
This year, Saint Anselm has expanded its internship programs to allow for 2, 4, 8, 12, and 16 credit internships.
"Students now have significantly more options and can become immersed in one or multiple internships that fit into their schedules," says Alane De Luca, executive director of the Internship Office.
This semester, student experiences range widely. There is an accounting major at BAE Systems, a criminal justice major at the Department of Homeland Security, a sociology major working in Human Resources at Elliot Hospital, and an American Studies major at the NH Coalition Against Domestic and Sexual Violence.
Another recently added program is "Career Café" - a bi-monthly, lunchtime series of career building talks and workshops. Students learn skills from searching the online jobs and internship postings in the Anselmian Career and Employer System (ACES) to creating a powerful LinkedIN profile and turning a job fair into a job offer.
Saint Anselm also offers many on-campus internships that offer meaningful experiences for qualified students, including jobs in its Financial Aid and Finance offices, College Communications & Marketing, Alumni office, and Athletics.
At Home in the Heart of State Government
McKillop has family at the State House - his Saint Anselm family that is. Two of his peers majoring in politics also secured internships at the capitol building: Kelly Flathers, '15, and John Rogeri, '16. Politics graduate Paxton Delano, '14, interned in the Governor's office during her senior year, and now has a full-time job there.
"These internships are a fantastic opportunity for students to learn how state government works and to become comfortable in that world," says Christopher Galdieri, assistant professor in the politics department. "Many of our students find that the skills, knowledge, and connections they develop as interns help them find jobs after graduation."
McKillop says his internship has helped him to explore public service in a capacity that he never had before. He assists three state senators in a broad range of tasks from calling constituents to arranging meetings for the senators to formulating senate committees and senate and house bills.
"I practically have my hand on the pulse of New Hampshire politics," he says.
He is now searching his options for career opportunities after he graduates, both in New Hampshire and in Massachusetts.
"The internship with the New Hampshire State House has definitely helped me in networking in the political realm," says McKillop. "Utilizing these networking options, I will have great support in searching for a career in politics."  
*Does not include nursing students doing practical rotations.