Alumnus Tells Students to "Dream big" at MLK Dinner
January 24, 2020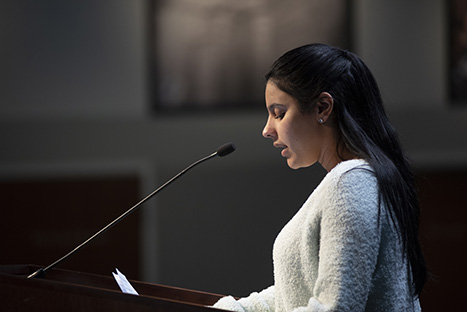 Dr. E. Elon Joffre, '01, had simple advice for the 160 students, faculty, staff and guests who gathered at the New Hampshire Institute of Politics (NHIOP) for the 2020 Dr. Martin Luther King Jr. Dinner on Jan. 21: "Dream, and dream big," he said. "If you dream big, you can get there."
Joffre's life is proof that dreams can be realized. A native of Nassau, Bahamas, Joffre is a first-generation college graduate who now is a leading orthodontist in the Boston area, a faculty member at the Harvard School of Dental Medicine and a staff member of Brigham and Women's Hospital.
It was a long road from a Caribbean island to a Hilltop in New Hampshire, where Joffre went from a tropical climate to the chilly New England weather and quickly discovered, as one of only four black people on campus when he arrived, he was a minority for the first time in his life.  "When I got here, I was a fish out of water," Joffre said.
But Joffre soon found that he was embraced by the Saint Anselm community and he flourished as a biology major and Resident Assistant at Hillary Hall. His childhood dream to become a dentist was realized after graduating from Saint Anselm when he earned his DMD from Tufts University School of Dental Medicine and a Master in Public Health from the Harvard School of Public Health.
In addition to his private practice at Axis Orthodontics in Waltham, Mass., Joffre provides orthodontic care to those in need through Brigham and Women's dental clinic and he volunteers with local and national organizations, such as the DentaQuest Foundation, to help underserved communities have access to dental care and to educate dentists about caring for vulnerable populations.
Joffre also serves on the Board of Trustees at Saint Anselm College.
Reflecting on Dr. King's "I Have a Dream" speech, Joffre challenged the audience to find their dream and pursue it.
"Do something, do something, do something," Joffre said. "Take action, whatever it is, if you do something every single day and take action steps toward activating your dream it will become a reality."
The event was sponsored by Campus Ministry, the Martin Luther King Jr. Planning Committee, the Center for International Learning and Inclusion, the Multicultural Student Coalition, and the Office of Diversity and Inclusion.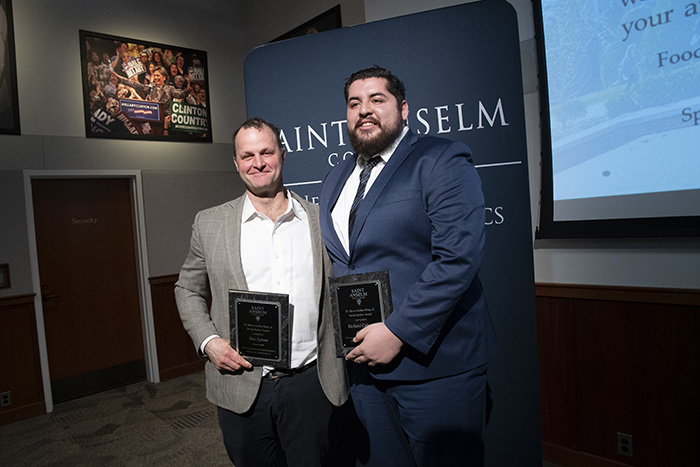 During the program, two Social Justice Awards were presented to a Richard Cabrera, '20, a forensic science major from California, and Max Latona, an associate professor of philosophy and the executive director of Saint Anselm's Center for Ethics in Business and Governance.
Esmeralda Hernandez, '20, announced Cabrera's award, pointing out that he "is always spreading the word of inclusivity."
"This student accepts and loves all types of walks of life and is undeniably the kindest and most loving person I know," Hernandez said. "I see him day in and day out connecting with everyone on this campus.
Cabrera arrived in New Hampshire as a football recruit, but when he stopped playing he considered going home to California. Friends, family, and faculty urged Cabrera to stay and he is now in his final semester having served as the president of the Multicultural Student Coalition, a Transition Mentor, a Resident Assistant, and a member of the management team at the Meelia Center for Community Engagement.
"Fortunately, I think I made the right decision (to stay)," Cabrera said. "I was able to utilize and develop my leadership skills to not only advocate for myself but for my other underrepresented students on campus."
Latona, who is the founder of the Inti Academy, a nonprofit for refugee and immigrant children in Manchester, and started The Housing We Need, an initiative that brings together stakeholders and experts to address the region's housing shortage.
Presenting Latona with the award, Dr. Jason Sorens pointed out that Latona work on social justice initiatives not only on campus but also in the broader Manchester community.
"He's beloved by his students, that might go without saying, but he's also someone who has done quite a bit of activism to make this a more just society," Sorens said.
The theme of the 2020 Martin Luther King Jr. Dinner was "Dream. Believe. Do!" Wayne Currie, the director of the Center for Intercultural Learning and Inclusion, reminded the audience that while the world has changed since Dr. King's dream speech, there is more work to be done.
"We've made small progress but the struggle remains," Currie said. "We must continue to focus on the future."