Chapel Art Center Adds Anne Connell Piece to Permanent Collection
December 12, 2018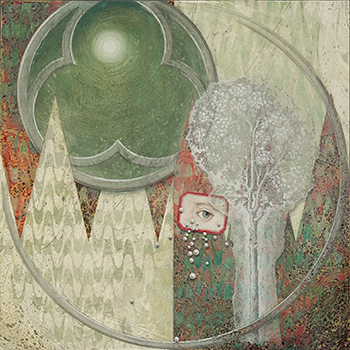 The Alva de Mars Megan Chapel Art Center recently acquired The Goose-Girl at the Well by Portland, Ore., artist Anne Connell, whose work was the focus of a 2016 solo exhibition at the gallery. This latest addition to the permanent collection is currently part of the Chapel Art Center's ongoing exhibition, Preparing a Place: Women Modernists from the Chapel Art Center Permanent Collection, on view through February 16, 2019.
"The recent acquisition of The Goose-Girl at the Well signifies a culmination of many advances the Chapel Art Center has made over its latest phase of development," says Fr. Iain MacLellan, O.S.B., director of the Chapel Art Center.
"Regarding exhibitions, we have worked to expand contacts with widely recognized artists, who are making significant contributions to culture in ways that will speak directly to our community," he says. "Anne Connell is one such artist, whose work draws upon an impressive knowledge of art history, literature, traditional techniques, and keen modernist sensibilities.
"I am most grateful for The Peter C. Lauterbach Fund for Art Acquisition, which has allowed us to acquire this delightful work," says Fr. Iain.
About The Goose-Girl at the Well
The Goose-Girl at the Well is a mixed-media piece on paper executed in gouache and silverpoint with collaged elements on hand-marbled paper mounted on panel. "The picture is filled with many of Connell's characteristic art historical and architectural allusions including the spectral appearance of hovering ornamental tracery providing a view into a mysterious world beyond the picture plane," says Maggie Dimock, Chapel Art Center curator of Collections and Exhibitions. "It is also remarkable for its inclusion of several cleverly painted tromp l'oeil objects arranged in a mock collage, among them an oak tree—executed in silverpoint—engineered to appear as though the diaphanous 'paper' scrap it is drawn upon has been pasted to the picture's surface."
"Throughout, the work demonstrates Connell's strong eye for pattern and texture, including the use of a distinctive wave pattern borrowed from traditional heraldic imagery," says Dimock.
Since Connell's exhibition in 2016 titled The Silent Heart: Modern Illuminations by Anne Connell, Fr. Iain and Dimock hoped an opportunity would arise to acquire one of the artist's works for the gallery's permanent collection. Such an occasion presented itself when The Goose-Girl made its way to campus during the spring 2018 semester for a separate exhibition in the Living and Learning Commons (LLC).
"Connell's Goose-Girl painting was among the artworks on display [in the LLC], and when the show came down at semester's end we decided the opportunity to finally acquire one of Anne's pieces for the Chapel Art Center was too good to pass up," says Dimock.
Anne Connell's Work Exhibited on Campus
Completed in 2014, The Goose-Girl was originally created for inclusion in a conceptual book project titled Mirror, Mirrored: A Contemporary Artists' Edition of 25 Grimm Tales, where it accompanies the fairy tale, "The Goose Herdsgirl at the Well" by the Brothers Grimm. Several original artworks from the project, as well as select illustrated historical editions of Grimms' Fairy Tales, were on display in the LLC in February 2018. Fine Arts professor Kimberly Kersey-Asbury, who teaches courses on illustration and book arts as well as drawing, painting, and printmaking, collaborated with New Hampshire-based artists and curators Michelle Aldredge and Corwin Levi, the architects of Mirror Mirrored, to bring the publication and the exhibition to campus.
The painting is included in the Chapel Art Center's current exhibition, Preparing a Place, which features a selection of artworks from the gallery's permanent collection by women artists of the 20th century who distinguished themselves through their talents, their dedication to Modernist sensibilities, and their role in advancing the representation of women in the American art scene. In addition, the gallery also is exhibiting select works by contemporary women artists who carry on the legacy of their Modernist forbearers.
"We chose to highlight this newly acquired picture by Anne Connell in light of her recent exhibition at the Chapel Art Center, and in recognition of the painting's characteristic blending of Old World and new, combining traditional art-making and craft techniques like hand-marbled paper and silverpoint with surprising, subversive combinations and layering of ideas and images to achieve new symbolic meaning; a mode of working emerging from the post-modern era," says Dimock.
Connell has had several solo exhibitions in America over the last two decades, and has also participated in multiple group exhibitions. She has received grants and awards for her artistry, including a Senior Research Fellowship to Italy in 2002-2003 as a Fulbright Scholar – the first visual artist in many years to be recognized – and several residencies at the MacDowell Colony, Yaddo and the Ucross Foundation. During her visit to Saint Anselm College in 2016, she gave a demonstration in silverpoint and metalpoint technique to studio art students, and also delivered a gallery talk.