Chabot-Fletcher Fellowship Supports Student Contributions to Cancer Research
July 22, 2021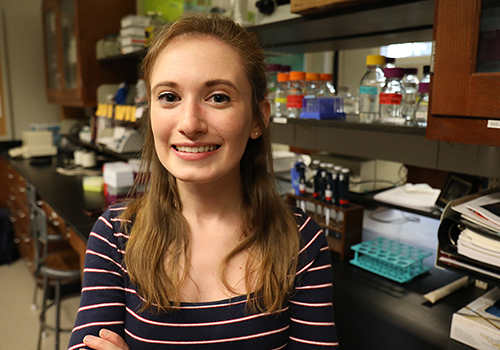 Danielle Abdennour '22, a biochemistry and French double major, has been selected to receive the 2021 Dr. Marie C. Chabot-Fletcher and Mr. Robert Clayton Fletcher Endowed Research Fellowship Award. This annual award provides an undergraduate with a stipend, on-campus living accommodations, and funds for supplies to support undergraduate summer research. 
As a previous recipient of the New Hampshire IDeA Network of Biomedical Research Excellence (NH-INBRE) award, Abdennour has continuously worked alongside other students on a project titled "Comparing Protein Expression and Aldehyde Dehydrogenase Activity in Haploid, Diploid, and Aneuploid Yeast (S. pombe)." Under the mentorship of Professors Robert Vallari, Ph.D. and Stephen Tobin, PhD., of the department of biology, Abedennour was able to prove that there is a relationship between enzyme upregulation in aneuploidy yeast and human cancer.
Professor Vallari and Professor Tobin both agree that Abdennour has taken ownership of this project and demonstrated superb growth in her research, leadership, and teamwork.
Using the funds provided by the Chabot-Fletcher Fellowship Award, Abdennour spent the summer looking into other proteins found in the S. pombe yeast that may show unusual or elevated levels as these may also be related to cancer.
"I am incredibly thankful for the Chabot-Fletcher award. This honor was very gratifying to me as it will enable me to further contribute to the scientific community by advancing on my lab's research project," says Abdennour. "While never expecting to find a cure for cancer, simply contributing to research in this field has been immensely rewarding."
The Dr. Marie Chabot-Fletcher and Robert C. Fletcher Research Internship Fund was established by alumna and trustee, Marie Chabot-Fletcher, PhD. '81, an independent pharmaceuticals professional. Dr. Chabot-Fletcher has published numerous articles in scientific journals dealing with immunopharmacology and holds multiple patents for the development of pharmaceutical drugs. She is a passionate advocate for the value of undergraduate research. 
Dr. Chabot-Fletcher served as a member of the Saint Anselm College Board of Trustees from 2009-2020.
Related Links