Saint Anselm College Announces First Chief Diversity Officer
February 15, 2017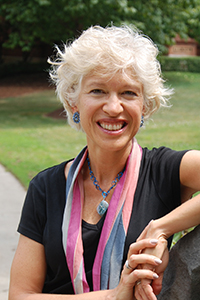 College president Dr. Steven R. DiSalvo announced yesterday that after a nationwide search, Ande Diaz, Ph.D., has been selected as the first Chief Diversity Officer (CDO) at Saint Anselm College. She will work with him, the Cabinet and the entire college to address the need to recruit, retain and strengthen an intentionally diverse and inclusive community and environment on campus.
"I am very pleased to have Dr. Diaz join us in this exciting and pivotal new role," said Dr. DiSalvo. "We are committed to moving forward as a community and honoring our mission by building a progressively more diverse, inclusive and robust learning and living environment for our students. I have every confidence that her substantial expertise and dedication to our goals will truly enrich Saint Anselm and help us to grow in this endeavor."
Diaz comes to Saint Anselm with a depth of career experience in the field of civic engagement and inclusion and diversity education, including over 10 years as the most senior diversity professional on several campuses. Most recently, she has served at Allegheny College as Associate Provost for Diversity and Organizational Development since 2014. She holds a B.A. from Yale University, an Ed.M. from the Harvard Graduate School of Education, and a Ph.D. in human and organizational development from Fielding Graduate University.
At Allegheny, Diaz conceptualized, developed, implemented, communicated and monitored institutional change pertaining to diversity and inclusion.
"Experiencing Saint Anselm through the eyes of my daughter, Franki — who is a senior at the college — and as one who has long admired the Anselmian tradition of liberal arts learning, I know that Ande will make the same difference in New Hampshire that she has made for Allegheny," said Allegheny College President James H. Mullen, Jr. "I am deeply grateful for all Ande has done for the Allegheny community, and I wish her every success as she returns to New England."
Prior to her time at Allegheny, Diaz spent 7 years as Associate Dean and Director of the Intercultural Center at Roger Williams University, where her focus included multicultural student affairs, LGBTQ student affairs, international student services, and spiritual life. She has served as adjunct faculty and guest faculty at distinguished institutions including the University of Wisconsin, Boston University, Providence College and Swarthmore College, and has also served as Assistant Dean for Multicultural Affairs at Princeton University and Assistant Director and Public Service/Arts Advisor at Harvard University.
Diaz will be relocating from Pennsylvania with her husband, Peter McCaffery, and beginning her tenure at the college July 15. She will report directly to President DiSalvo and will sit as a member of the President's Cabinet.