College Dedicates the Savard Welcome Center
September 18, 2020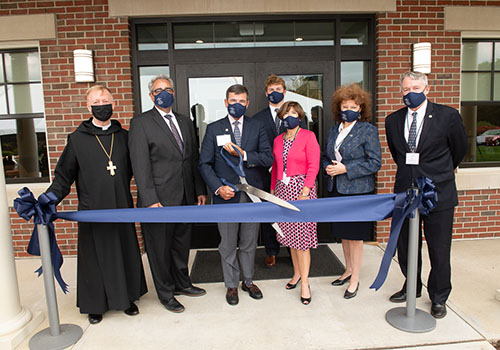 On Friday, Sept. 18, a little over a year after first breaking ground, members of the Anselmian community gathered to celebrate the opening of the Savard Welcome Center.
"The Savard Welcome Center serves as the front porch of the college and signifies the arrival into our Anselmian community," explains Dr. Joseph A. Favazza, college president. "Visitors will now experience our Benedictine hospitality as soon as they step foot on campus."
As the first place prospective students will visit on campus, the Savard Welcome Center will provide an easily accessible visitor space on campus, with air conditioning and, more importantly the college's homemade chocolate chip cookies. It includes an event room, outdoor patio space, the Sherwood C. Blake '50 Presentation Room, and offices for admission staff and ambassadors. The Welcome Center also will be home to function space available for alumni reunions, homecoming, and other community events.
"Recruitment changes and evolves every year … the one thing that doesn't change is the impact the campus visit experience has on a student's decision to select where they will obtain their higher education," explains Steve Goetsch, vice president for enrollment. "So, while everything else in the admission and recruitment process will change over the years and decades to come – the Savard Welcome Center will stand the test of time welcoming students and families to our Hilltop, making them feel at home, and like they belong, as they will begin their journey as Anselmians."
The Savard Welcome Center is named to honor the generosity of Robert '71 and Susan Savard. Their $1 million gift to Saint Anselm is the latest in their long history of philanthropy at the college, previously supporting the Career Development Center and setting up the Robert F. Savard Annual Scholarship to support deserving students at Saint Anselm College.
During the event, Robert Savard '71 shared his memories of his time on the Hilltop and how they changed him. In a call to action to encourage more people to support the College they love and value, he reflected, "We came seeking wisdom, we left with an appreciation for mankind."
"Bob's generosity will continue to inspire our entire community and we are eternally grateful for his remarkable commitment to Saint Anselm College," shares Ann Catino '82, chair of the Saint Anselm Board of Trustees.
The ribbon cutting, which was also available on livestream, opened with a prayer by Fr. Jonathan P. DeFelice O.S.B. '69. Richard (Rit) Flandreau '22, Saint Anselm College's student body president and an admission ambassador, greeted the guests and reminisced on his first visit to campus. He shared, "In the fall of 2017, I toured a campus with a student center that was under construction, yet the campus was still so beautiful. I was drawn to Saint Anselm because of everything the campus offered, yet looking back, the one thing missing was a welcome center."
After remarks from Dr. Joseph A. Favazza, Steve Goetsch, and Robert Savard, Abbot Mark Cooper, O.S.B.'71 conducted the dedication and blessing.
"From their beginning over 1500 years ago, Benedictine monks have made their presence known in the world, in good part, through their offer of hospitality," explained Abbot Mark. "It is in this spirit that we dedicate the Savard Welcome Center – a tangible expression of our Benedictine hospitality."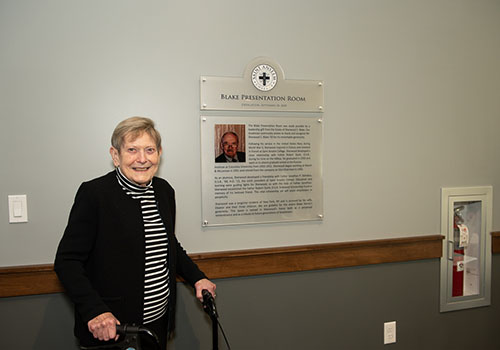 Earlier in the day, the college dedicated the presentation room in memory of Sherwood C. Blake '50, without whose legacy gift, the Welcome Center would not have been possible.
"I am so pleased that Sherwood Blake will be known to generations of Anselmians as they are first familiarized with the College, in this room named in his honor," shared Fr. Jonathan DeFelice, president emeritus.
Many people were involved in the construction of the new Welcome Center including: Bill Furlong, vice president of finance & chief financial officer; Jonathan Woodcock, project manager; John Deloia, vice president of Eckman Construction, Dennis Mires of Dennis Mires - The Architects; James Flanagan, senior vice president and chief advancement officer; the Office of College Advancement staff; Michael Iorio '07, assistant vice president of enrollment and director of admission; and the entire Office of Admission staff.