College Hosts Annual Conference and Meeting of Benedictine Administrators and Faculty
May 30, 2018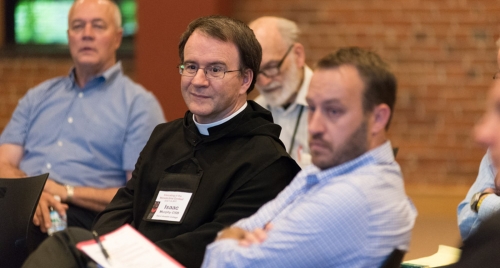 May 30 to June 2, faculty and administrators from thirteen Benedictine colleges and universities in North America will converge on Saint Anselm College's campus to attend the Association of Benedictine Colleges and Universities (ABCU) annual meeting and Leadership Formation Institute, as well as the annual Benedictine Pedagogy Conference. The events are being held simultaneously this year, providing participants the opportunity to connect over joint sessions with keynote speakers and social and liturgical events.
This year's pedagogy conference, "Benedictine Engagement with the World: Stability, Mission, and Outreach," aims to provide faculty from Benedictine colleges and universities with a venue to share ideas and practices for successful classroom integration of hallmarks from the ABCU's document on Education in the Benedictine Tradition. Forty-eight participants, including several Saint Anselm College faculty and three alumni, are attending, presenting, and/or moderating discussions.
Hilary Gorgol, class of 2014, will join nursing professors Destiny Brady and Ann Fournier '99 to present "Integrating Benedictine Values into the Practice of Nurse Caring" on Thursday afternoon. Alumnus Br. Francis McCarty, O.S.B. '10, will discuss "Benedict and the Selfie Generation" during Friday's panel on "The Benedictine Vows and the Contemporary Campus." Other panels include English professors Meoghan Cronin and Ann Holbrook on "Hansen's Mariette in Ecstasy as a Conversatio Text," Kyle Hubbard, program director for the Center for Ethics in Business & Governance and philosophy professor Max Latona on "A Call to Counsel: A Distinctively Benedictine Model for Civil Discourse," and theology professor Bede Bidlack on "Obsculta: The Benedictine Practice of Listening."
Dean of the College Mark Cronin, Chief Diversity Officer Ande Diaz, Director of Campus Ministry Sue Gabert, education professor Aubrey Sheopner-Torres, professor Bidlack, and Vice President of Academic Affairs Bro. Isaac Murphy, O.S.B., will moderate panel discussions.
The ABCU's Benedictine Leadership Formation Institute, running parallel to the pedagogy conference, will bring 32 administrators to campus. Participants will gain a deeper understanding of Benedictine education, history, and values. Sessions include "Benedictine Values/Hallmarks: Love, Prayer, Conversatio, and Obedience" and "Leadership in the School of the Lord's Service." Saint Anselm College's Abbot Matthew Leavy, O.S.B., campus minister and abbey vocation director, will discuss "Humility and Patience in Benedictine Education" during a session on Friday.
While administrators learn more about leadership in the Benedictine tradition, thirteen college presidents and 15 monastic superiors will attend the ABCU's annual meeting.
Conference participants are joining administrators and monastic superiors at various events throughout the four-days beginning with the opening dinner on Wednesday night, at which Saint Anselm College president Steven R. DiSalvo, Ph.D., welcomed guests. Fr. Columba Stewart, O.S.B., executive director of Hill Museum and Manuscript Library at Saint John's University gave the opening address, "Wisdom, Tradition, and Modern Culture: The Rule of Benedict and Higher Education Today." The itinerary of communal events includes vespers and Celebration of the Eucharist in the Abbey Church, Lectio Divina, an introduction to Lectio by Abbot Matthew, and a social in the Saint Anselm Abbey's Cloister. The conference closes on Friday night with an address, "From Leaves of Gold: Saint Anselm offers an approach to Benedictine Education," by Saint Anselm president emeritus, Fr. Jonathan DeFelice, O.S.B.