College Launches Hilltop Academy
August 7, 2020
Recently, 15 students of the class of 2024 virtually completed a new summer program, the Hilltop Academy, intended to prepare incoming first-generation college students and those from diverse backgrounds. 

"We were excited to launch this innovative new program," Dr. Favazza said. "We believe that Hilltop Academy provided the resources and relationships for a successful college transition for our incoming Anselmians."
The three-week, tuition-free program began on July 19 and is designed to prepare incoming first-year students both academically and socially for their first semester of college while also lightening their course load. Students completed a two-credit course EN100 Introduction to College Reading and Writing with English Professor Patrick Meighan. This will allow participants to take just three courses during the fall semester, and they'll continue with the program with another two-credit course over the winter. The summer course was developed by Prof. Meighan and the English Department.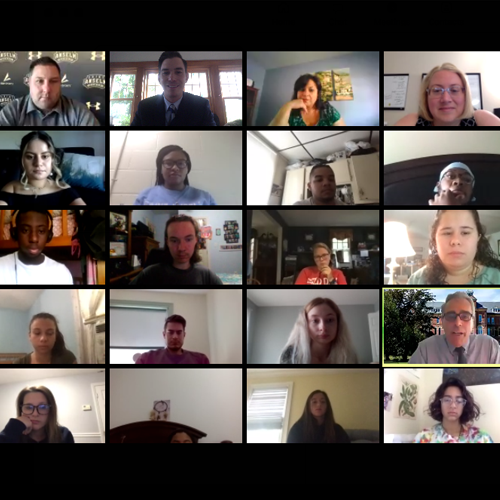 Participants gained important foundational skills for college through reading and writing every day. Currently they're diving into James McBride's "Color of Water," which deals with issues of race and class. They also participated in sessions to help them transition to college life and learn about the college community. These sessions included a variety of co-curricular activities with staff from the Registrar's Office, Office for Diversity and Inclusion, Intercultural Center, Academic Resource Center (ARC), and Campus Ministry. During the first semester, students will continue to receive support through a variety of workshops and skill building activities.
The program is led by Co-directors Benjamin Horton '12, Ph.D., assistant director of the Academic Resource Center, and Marilu McCambly, senior associate director of admission. Five Saint Anselm student leaders, who are also resident assistants, orientation leaders, and Transition Program [LINK https://www.anselm.edu/student-life/multicultural-center/transitions-program] mentors, led small groups and one-on-one ice breaker activities as well as peer tutoring and writing assistance.
"Hilltop Academy has been a wonderful opportunity to orient incoming first-year students to life at Saint Anselm," said Horton. "As students engage in their very first intellectual endeavor together, they have rich opportunities to discuss complex and challenging topics including race, gender, socioeconomic status, and religion through shared reading and discussion activities."
"These experiences make Hilltop Academy a unique, fun, and exciting opportunity for incoming students, which will set them on the path to success as they pursue their Saint Anselm degrees."
Related News