Robert K. Weiler '73, HD '00 Shares Advice for Life with Graduates
May 17, 2019
On Saturday, May 18, 430 Saint Anselm College students received their diplomas during the 126th commencement exercises. Speaker Robert K. "Bob" Weiler '73, HD '00 shared his advice for navigating life and the workforce with the graduates through five major tenets.
"Advice #1: Be objective. There is tremendous value in being the person who has the facts and keeps the best interest of the organization in the forefront. Your objectivity and fairness will make you a valued team member," said Weiler.
"Advice #2: Maintain an open mind. By being open-minded I not only began an exciting career, but I was able to embrace an industry that thrived on change. The bold, new, and unscripted frontier excited me. My advice? Don't be that person left behind, clinging to the status quo. Don't lock on some goal just for the sake of achieving it because that is what you've always done. Don't always see barriers."
Weiler went on to offer the additional suggestions that the graduates capitalize on their Saint Anselm education by embracing life-long learning, always respecting everyone, and getting in the ring and engage to the fullest extent in their chosen careers.
He concluded, "If you are willing to bet on yourself, others will bet on you too…I am betting on this class. I am betting on this college to have prepared you for the path ahead. A college that has taught you critical thinking, communication, integrity, community and philanthropy. I am betting on your courage, and intellect, and perseverance."
Weiler is an Executive Vice President of Oracle Corporation with over 40 years of technology industry leadership experience. He chaired the Saint Anselm College Board of Trustees for almost a decade, and received an honorary doctorate from the college in 2000.
Dr. Steven R. DiSalvo, college president, also congratulated the class of 2019 and offered encouragement as they go forth from the Hilltop into the "real world."
"It is true that our world is filled with great challenges," DiSalvo said. "But, know that you now have the tools to accomplish all of these things and so much more. You have learned to always be respectful, to care for those less fortunate and to face adversity with grace and dignity. The world in which we now live is constantly changing, and often disquieting, but it is a world in which you are equipped with the foundational values to succeed and to effect positive change."
This will be the last Saint Anselm College Commencement over which DiSalvo, who is stepping down on June 30 and will become president of Endicott College in Beverly, Mass., will preside. "Just like you, I now look beyond the Hilltop to the challenges ahead, and I will take with me those values of optimism, faith and perseverance so vital to the Anselmian spirit from my time here as well."
Student speaker Kathryn Gabert, a history major and great books minor from Manchester, N.H., addressed her class, reflecting on the many ways in which their Saint Anselm experience has impacted them.
"These have been formative years, months, and days." Gabert said. "And we have begun to reflect light into dark places—in ourselves and into our world."
Gabert also encouraged her fellow graduates to always look for ways to share that light in their lives and careers. "What we learned here, by allowing our faith to seek understanding, we will use for years to come…So, I leave you with a question: In your future careers, families, and friendships, how will you reflect the light, love, and joy that Saint Anselm has brought you?"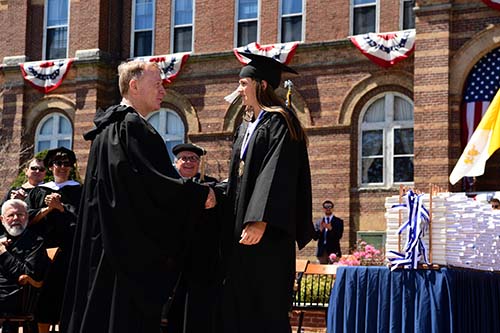 Psychology and Spanish double major Madison Scavotto of North Falmouth, Mass., received the Chancellor's Medal for the graduate with the highest academic average, with the first 4.0 at the college since 1995. Scavotto, graduating with honors summa cum laude, was a 2018-2019 Bernard Holmes Scholarship recipient, co-captain of the women's ice hockey team, and an active member of the Saint Anselm College community.
History professor Hugh Dubrulle received the award for excellence in faculty accomplishment for his commitment to his colleagues and the college in his 17 years of service to Saint Anselm. "Our recipient today has given countless hours to meaningful and important service to his faculty colleagues," said economics and business associate professor Amy Schmidt, vice president of Saint Anselm College's chapter of
the American Association of University Professors (AAUP).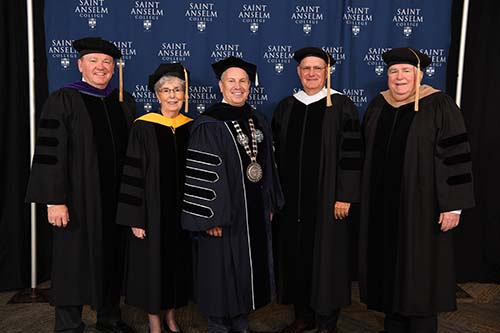 Honorary Degree Recipients
On the plaza in front of Alumni Hall, the college conferred a Doctor of Business Administration on Stephen J. Ellis '69, a Doctor of Science on Sheila A. (O'Donnell) Evjy, R.N. '74, and a Doctor of Law on James P. McDonnell '81.
Stephen Ellis is retired from a distinguished career with the Hartford Insurance Group, having served as Senior Vice President and National Director of Sales. He has been a member of the Board of Trustees of Saint Anselm College for over 20 years.
Sheila Evjy is a Board Member of the VNA of Manchester and Southern New Hampshire. She is a member of the Ethics Committee and the Associates of the Elliot Hospital in Manchester, N.H., and has served in many capacities at the hospital over the past 50 years of her career in nursing.
James P. "Jim" McDonnell was the 32nd Sheriff of the County of Los Angeles, the nation's largest sheriff's department and the second largest law-enforcement agency in the United States.
Related News