Forty-Six Students Walk 130 Miles for Road for Hope
August 16, 2019
On Saturday, August 17, Saint Anselm college students embark on a pilgrimage from Lewiston, Maine, to Manchester, N.H., for the college's 21st annual Road for Hope. During this tradition, students walk over 130 miles, through sun and through rain, to raise money for nine New Hampshire and Maine charities. For the students, the trek is a labor of love, and one in which they eager to participate. In the words of the mission statement, students "seek to provide funds for the needy, strengthen the bonds in our communities, and rekindle the belief that every footstep makes a difference."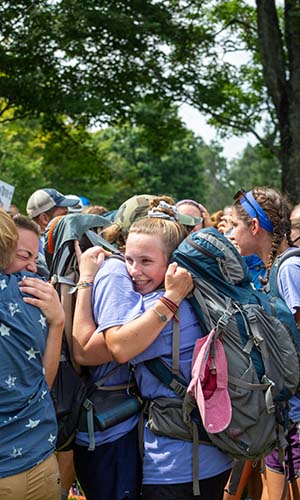 For reprieves from their walk, students will eat in parks, and sleep in churches and schools at the end of each long day. During their journey to provide charity for others, they rely on the charity of the community around them to provide them with accommodation and places to rest. Forty-six students are walking in this year's journey, including six student leaders: Rileigh Armstrong '21, Christina Behen '20, Elijah Fish '20, Andre Gaudet '20, Madi Jones '20, and Maggie Sheridan '20.
This will be Fish's second year walking in the Road for Hope, and he sees the walk as representative of Saint Anselm's core values of dedication and service. "Road for Hope is such an Anselmian program, unique and unlike any other opportunity than any other school has to offer!" says Fish.
Elementary Education major Joseph Francis '21, is eager to undergo the transformative journey that the Road for Hope offers. "I've never walked the Road for Hope before, but I think it's going to be a unique experience to connect with my faith, and an amazing opportunity to experience others in action," says Francis.
This Anselmian tradition began in 1998, when an incoming freshman, Seamus Griesbach, decided to walk, along with his younger brother, from his hometown of Lisbon, Maine, to his new college to begin the year. Seamus, now an ordained priest in the diocese of Portland, Maine, walked about 130 miles in a week's time, just as Road for Hope walkers will do this week.
The following year, Seamus repeated this venture, this time with over 30 friends. They used their walk to raise funds for several small service organizations between Lewiston and Manchester. Seamus purposely chose small charities for the walk, as he wanted the donations to have the greatest possible impact. Since then, Road for Hope was made into an official Saint Anselm event by Campus Ministry, which oversees and supports it each year.
This year, the charities being supported are Birthline, Community Concepts, Good Shepherd Food Bank, the St. Charles School, the Rochester Recreation Arena & Youth Services, the Candia Moore Drug Awareness Program, Kid's Cafe, the York County Shelter Program, and Upreach Therapeutic Riding Center. All of these charities serve individuals and groups in need in their local community.
Visit the Road for Hope blog to follow the progress of the walk and read testimonials from students. Walkers will return to campus on Saturday, August 2023, and will be welcomed back by family, friends, and the class of 2023.
Related Links