Gilman Scholarship Awarded to Rising Senior
July 20, 2020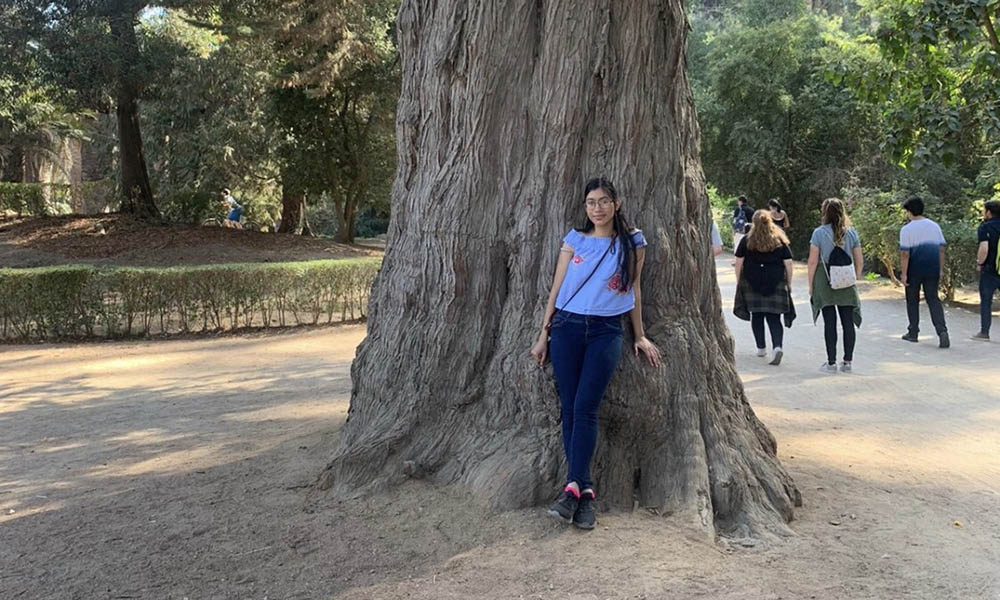 Rising senior Braina Palmer-Ruiz '21, of Lawence, Mass., was the recipient of the prestigious U.S. State Department Gilman Scholarship for the spring 2020 semester. She spent five weeks studying abroad in Viña Del Mar, Chile before her experience was cut short by the global Coronavirus pandemic.
"In those five weeks I spent abroad I acquired knowledge on cultural, economic, and religious aspects of Chilean culture and I had the opportunity to meet amazing people from all over the world with whom I made great friendships," said Palmer-Ruiz, a Spanish and secondary education major.
During her time in Chile she visited beautiful beaches, the Viña del Mar Botanical Garden, toured the port city of Valparaiso on Chile's coast, did some sandboarding and watched the sunset at the coastal city of Concón.  She says the experience helped her become more confident and independent and taught her valuable skills beneficial to her future career as a teacher. Though her time in Chile was cut short, she completed her courses through Universidad Viña Del Mar online.
Palmer-Ruiz's family comes from Guatemala, a country with Mayan culture, so she chose Chile as her destination to expand her knowledge in other indigenous cultures and beliefs. Chile offered her not only a course about the country's Indigenous people but she also learned about the Chilean Mapuche culture around Valparaiso street art. This summer she is preparing for the Massachusetts Testing for Educator Licensure (MTEL) and spending valuable time with her siblings and friends.
The Gilman Scholarship, named after the late congressman Benjamin A. Gilman from New York, aims to encourage students to study and intern in a diverse array of areas around the world. Scholarships are available to students of limited financial needs providing them with skills critical to our national security and economic prosperity. Awards are used to defray eligible study abroad costs.
Palmer-Ruiz is the second Gilman recipient at Saint Anselm in the span of one year; Katie McGillivray was a Gilman recipient for spring 2019. This summer psychology major Grace Wirein '22 received the scholarship to study in the CLS Taiwan program.
Due to the pandemic, the college has suspended all study abroad programming for the 2020-2021 academic year. There will be no provider, faculty-led or Orvieto programs sponsored or approved by the college for the summer 2020, fall 2020 or spring 2021.
For more information, see the study abroad update on the Covid-19 site.
Related News