"Give A Mask, Get A Mask" Campaign to Supply A Mask to Every Student
September 23, 2020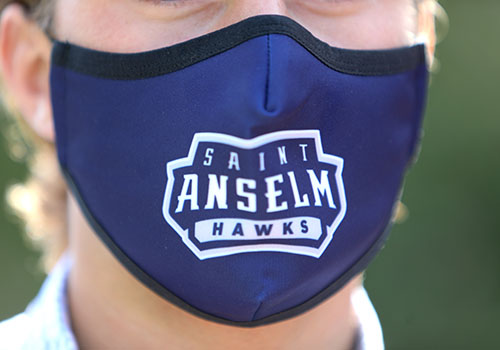 During the month of September, the Department of Athletics and the Office of College Advancement partnered to host the "Give a Mask, Get a Mask" campaign to supply every Saint Anselm student with a branded face mask while also raising money for important campus programs.
"The Give a Mask, Get a Mask initiative offers alumni, faculty, staff, parents and friends of the College the opportunity to support students and student-athletes," said Daron Montgomery, director of athletics. "It is exciting that all students will receive a custom, Saint Anselm-branded mask when we reach our goal."
Donors who contribute $25 before September 30, 2020 will provide one student with a Saint Anselm Hawks facemask and receive one mask for themselves, while also benefiting the fund of their choice. Options include the Saint Anselm Fund, the Ernie Thorne '34 Scholarship Fund for Racial Equality, the Anselmian Student Relief Fund, the Hawks Soar Higher Fund, or the sport of your choice.
As of September 18, the "Give a Mask, Get a Mask" campaign donors had raised more than $39,000 – enough to donate more than 1,500 masks to students. To support the campaign, make a gift here: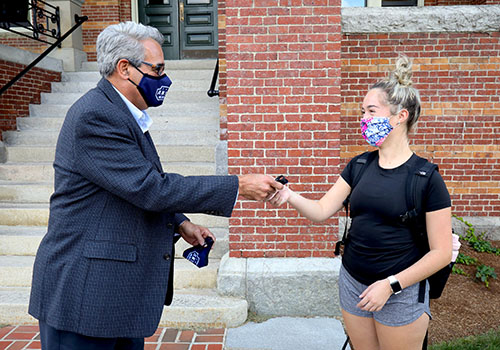 Each mask is constructed with comfortable, breathable fabric with a sleek behind-the-ear design with adjustable banding. Developed using CDC guidelines for face coverings, these masks are not medical-grade and are not for surgical use or intended to prevent any disease.
For those interested in a bulk mask order for students, please contact Director of Athletics, Daron Montgomery.
Related News