Humanity Institute's Come Friday Forums Continue Virtually
April 9, 2020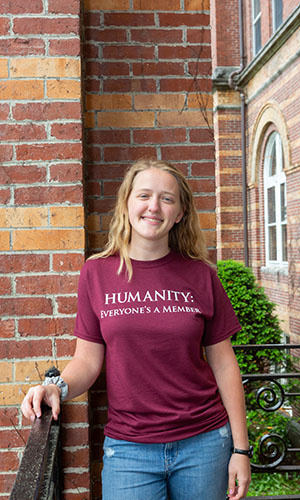 Every Friday since September, a group of students, faculty, staff, and alumni have met for a hearty discussion on life's big questions about humanity. The Come Friday Forums hosted by the Gregory J. Grappone Humanities Institute offer an open, informal conversation connecting community members in a different way.
Each week a faculty or staff member working with a student offer some foundational information pertaining to the subject and then ask a series of questions of the group. Past topics include "Did the Irish really save civilization?"; "Can we live St. Benedict's Rule outside of an abbey?"; and "When it comes down to it, isn't money what makes good life possible?"
On Friday, March 27, the Come Friday Forum returned not in the Living, Learning Commons (LLC) as it has been located since it started, but in a new space, a virtual one: by Zoom. Since March 13, due to the current Covid-19 pandemic the college has been closed to visitors; classes moved from campus classrooms to remote spaces. The Come Friday Forum in it's new venue is now open to a wider audience of alumni and others participating from home. Last week's forum on "Why does The Great Gatsby matter?" led by nursing professor Carrie MacLeod, was attended by more than 35 people.
"Just as many families are having to find new ways to connect and stay close, so too the Saint Anselm community is adapting to keep the community together," says Grappone Humanities Institute's Executive Director and English Professor Gary Bouchard.
"These are unsettling days when our sense of place, time, and security have all been shaken and we have lost one of the things we take most of granted: the ability to come together in common spaces and talk, exchange ideas, debate, laugh, solve problems, worship, embrace," says Bouchard.
Professor Bouchard says that the Come Friday forums and other virtual gatherings at least offer some semblance of normalcy in the form of familiar routine and face as well as the opportunity to think and imagine about something other than the steady onslaught of bad news. 
"The daily stress on everyone right now can be overwhelming.  For 36 people to step outside of it and discuss the literary value and moral lessons of The Great Gatsby, well, that reasserts in a significant way our humanity. Besides being enjoyable, such activities remind us that our lives stretch backwards and forwards in time and have meaning both in and beyond the many challenges of the present moment."
 
English and philosophy double major Hannah Beaudry '21 says, "Personally, Come Friday forums are a perfect way to end my school week. I've always loved having this type of conversation, but it's especially exciting to sit in a room with people from all different backgrounds and interests. I don't think there's anywhere else on campus where this occurs so naturally and wholeheartedly."
Considering the college's focus on the liberal arts, Come Friday forums are a natural culmination of that drive for intentional dialogue about meaningful topics, often interdisciplinary in nature.
There are a few more Come Friday Forum discussions before the end of the semester. On Good Friday, April 10 at the new time of 11 a.m., Assistant Dean of Students and Director of Campus Ministry Sue Gabert asks, "What can Good Friday teach us about the situation we find ourselves in today?" Particpate via Zoom at https://anselm.zoom.us/j/740264963?pwd=ZktMTTd6enBuRXlyTjBVSStyb21EQT09
The Gregory J. Grappone Humanities Institute was founded in the fall of 2018 by a generous gift from Bob and Beverly Grappone in honor of their son Greg, a 2004 Great Books major graduate of Saint Anselm whose life was cut tragically short by cancer at just 35. The Institute reaches across the campus, the curriculum, and the surrounding communities to challenge people with questions that arise from our shared and individual experiences, and inspire them with the consolations and wisdom found in the arts and humanities.
Related News