Meelia Center Director Chosen as 2021 IMPACT Administrator of the Year
April 14, 2021
Nicole Lora '06 has been awarded the 2021 IMPACT administrator of the year. Lora serves as the director of the Meelia Center for Community Engagement and also lectures in the  Sociology and Social Work Department at Saint Anselm College. This award is a testament to Lora's tireless commitment to engage college students with their community. Her colleague, and program coordinator, Dan Forbes '81 nominated Lora for this prestigious honor.
"I am honored to have this opportunity to nominate Nicole Lora for the John Sarvey Administrator of the Year Award," says Forbes. "She is an amazing resource to Saint Anselm College, the Manchester community, and higher education's community aspirations. Perhaps what is most amazing is that, without a doubt, Nickie's best is yet to come."
Named after one of its early founders, the John Sarvey IMPACT Administrator of the Year Award honors those who are exceptional leaders of college students and other professionals in the field. Recipients exemplify a commitment to their community, education, and creating equal opportunities for everyone. Lora also expressed her gratitude for the Anselmian community, student leaders, and community partners that made this award possible. Further, she emphasized the award being a collective achievement and an important milestone for the Meelia Center.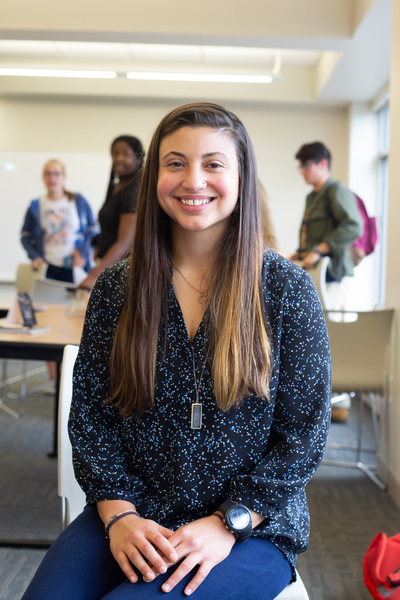 "I am honored and humbled to receive this award. When I step back and reflect, I am in awe at what our students and community are able to accomplish together," shares Lora. "The depth of learning, growth, awareness, and commitment to social justice and positive change is inspiring. It is a privilege to be able to do this work with them and something I am grateful for. This award is really a recognition of our collective work together – students, faculty, staff, and community members. Our college's commitment to community engagement comes from our Benedictine values and is a long-standing tradition."
Lora has been working at the Meelia Center for nearly seven years and graduated from Saint Anselm College in 2006. There she received a bachelor's degree in sociology and later earned her master's in social work from Boston University. In her career as an associate director at the Meelia Center, Lora has driven the development of a student–led dialogue series on crucial social and campus issues. She also revitalized Meelia's Impact Fellows Program, which facilitates the engagement of Saint Anselm's students of color in community leadership programs. Since assuming her role as director, Lora has also tackled the immense challenge of continuing community engagement despite health challenges presented by the pandemic. Her efforts to transform programming into a remote setting have enabled 290 students to be engaged at 32 sites.
The Meelia Center for Community Engagement has been an integral part of the Anselmian community since its inception in 1989. Since then, members have been instrumental in supporting the local Manchester community through student-focused engagement. The center has been coveted as an inspirational, and effective channel for social justice, inclusivity, and the creation of strong student and community relationships. Currently, the center works collaborates with more than 50 non-profit organizations in the Manchester community.
Related News