Melucci Scholarship Awarded to Two Seniors
September 5, 2018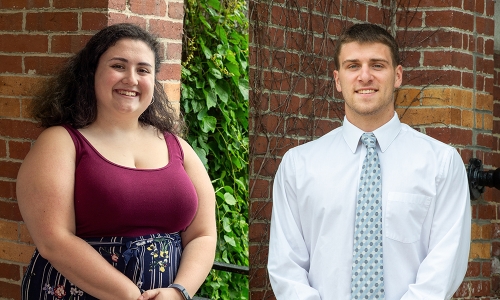 Seniors Anthony Busconi and Kelsey Warner have been selected to receive the 2018-2019 Thomas A. Melucci Jr. Memorial Scholarship, an award that annually provides full tuition to incoming seniors who have demonstrated significant spiritual and personal growth throughout their time at Saint Anselm College.
Busconi is a criminal justice major from Waltham Mass., who plays starting left attack on the men's lacrosse team. He says that balancing the responsibilities of a student-athlete has taught him hard work, discipline, time management, and the ability to take criticism.
In addition, Busconi and his team have contributed to the campus community by participating in Relay for Life, Walk-a-Mile in Her Shoes, and several other sexual assault prevention events.
"Anthony is self-motivated, generous, and an ethical young man who has a highly-developed sense of self," says Fr. Benet Phillips, O.S.B., assistant dean of freshmen, director of academic advisement and the lacrosse team's staff advisor.
"I am proud to be a part of the Saint Anselm community. They have been an unbelievable influence on my life and have shaped me into the person I am today," says Busconi. "I am extremely thankful and appreciative of the generosity of the Melucci family. My family and I cannot thank them enough for choosing me for their scholarship."
A history and English double major from Somersworth, N.H., Warner is an active member of the college community, balancing her studies with being an orientation leader, a member of the Anselmian Abbey Players, and a member of the National Society of Leadership and Success. Through the Office of Campus Ministry she was a peer minister, a Eucharistic Minister and lector, and a Campus RENEW leader. Warner is also the founder and president of the True Equality and Dignity Alliance (TEDA).
"I've seldom had a student who combined the leadership ability, the grit and courage, and the drive to make the world a better place that I see in Kelsey Warner," said philosophy professor and True Equality and Dignity Alliance (TEDA) advisor David Banach.
Warner says she is honored and humbled to be awarded the scholarship: "I am beyond blessed that I am able to enjoy my senior year without financial stresses, and am so humbled to be a Melucci scholar."
The Thomas A. Melucci Jr. Memorial Endowed Scholarship was established by Thomas and Gail Melucci as a memorial for their son, Thomas, who graduated from Saint Anselm in 1988. Mr. and Mrs. Melucci remain closely involved with the scholarship, serving on the committee that selects recipients each year. Mr. Melucci is a former trustee of the college.