Melucci Scholarships Awarded to Two Members of the Class of 2022
September 1, 2021
Seniors Emily Huston and Brandon Maldonado have been selected to receive the 2021-2022 Thomas A. Melucci Jr. Memorial Scholarship, an award that annually provides full tuition to two seniors who have demonstrated significant spiritual and personal growth throughout their time at Saint Anselm College.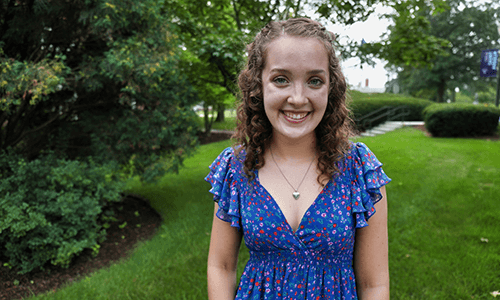 Huston is a nursing major and psychology minor from Keene, N.H. In addition to her rigorous course load as a nursing student, Huston has become fully involved on campus as a member of the Student Nurses Association, a tutor in the Academic Resource Center, and as a member of the Student Alumni Association. In addition, Huston was a student leader for the 2021 Road for Hope through the Office of Campus Ministry.
"Receiving the Melucci scholarship is truly such a blessing that I cannot thank the Melucci family enough for. I am forever grateful for all that the incredible community on the Hilltop has done to foster my growth, and I hope to honor the Melucci's mission during my senior year and throughout my nursing career," says Huston.
Maldonado is a criminal justice major from Methuen, Mass. His parents immigrated to the United States from Guatemala making him proud to be a first-generation college student. "As a first-generation college student, I never imagined being awarded this incredible scholarship. This moment demonstrated to me that anything is possible when one believes in themselves," explains Maldonado.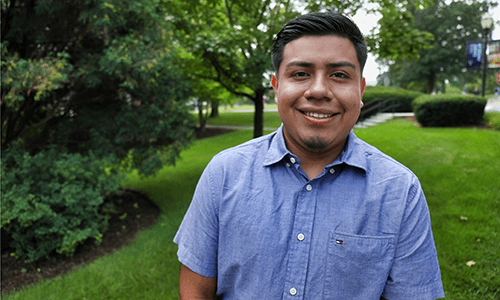 In addition to his course work, Maldonado is actively involved in the Meelia Center for Community Engagement where he serves as a mentor and tutors to students in the Manchester School District. He is also involved in The Fr. Jonathan, O.S.B., Center for Intercultural Learning and Inclusion as a head mentor for the Transitions Program. He credits both offices for his overall growth and maturity as a human being. "Saint Anselm has changed me as a person and has allowed me to flourish to the person I am today," shares Maldonado. "I am and will always be grateful for everything Saint Anselm College has provided and given me!"
The Thomas A. Melucci Jr. Memorial Endowed Scholarship was established by Thomas and Gail Melucci as a memorial for their son, Thomas, who graduated from Saint Anselm in 1988. Mr. and Mrs. Melucci remain closely involved with the scholarship, serving on the committee that selects recipients each year. Mr. Melucci is a former trustee of the college. Anyone interested in supporting the Melucci Scholarship fund, can make a gift online.
Related Links