Notes from the Hilltop April 2022
May 17, 2022
Student Leaders Attend Newly Implemented S.E.E.K. Conference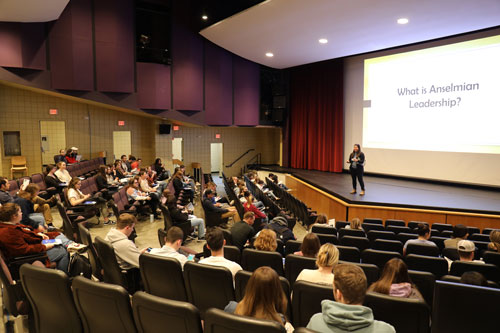 April 21-22, students participated in the S.E.E.K. Conference. S.E.E.K., which stands for serve, engage, empower, and know, is a three-level program for students to combine intellectual and ethical formation with practical leadership skills to serve on campus, prepare for the workplace, and engage in a global society. The program is available to students in leadership roles who wish to develop their critical thinking and problem-solving skills as well as expand their oral and written communication. New students participate in S.E.E.K. 101 during the spring leadership conference, where they learn the meaning of being an Anselmian leader. S.E.E.K. 250 is made up of leadership modules that students complete throughout the year. Lastly, S.E.E.K. 301 is a leadership fellowship where students will be paired with a leadership coach.
 
More Than 200 Attend Annual Visibility Day
This year's LGBTQ+ Visibility Day was hosted on April 29 by TEDA (True Equality and Dignity Alliance). More than 30 clubs, departments, and programs hosted a table for the event and approximately 200 people stopped by during the course of the event. LGBTQ+ Visibility Day is meant to celebrate the LGBTQ+ students at Saint Anselm College. The goal of the event was to show support and resources that they have around campus as well as make LGBTQ+ students feel supported and welcomed.
 
Saint Anselm's Feast Day
Although it is normally celebrated on April 21, this year's Feast day was commemorated on April 25. Saint Anselm is the 11th and 12th century Benedictine monk and archbishop who is celebrated by the Catholic Church for being one of the Church's greatest theologians. He is also recognized for his writings on the existence of God and on Christ's atonement. This year's celebration included a Mass followed by cake served behind Alumni Hall.
 
Spanish Major student participated in a Podcast about her Intern Experience
Kennedy Merriam '22, a Spanish major and ESOL education minor, was recently featured on an ELL/ESOL podcast about her internship experience. Merriam completed her teaching internship at Bedford High School and Lurgio Middle school while also occasionally commuting to McKelvie Intermediate and Riddlebrook School. During the podcast she also provided advice for student teachers/interns going into the ELL teaching field. You can listen to the podcast on Spotify.
 
Showing Our Art and Research celebrates Student's Accomplishments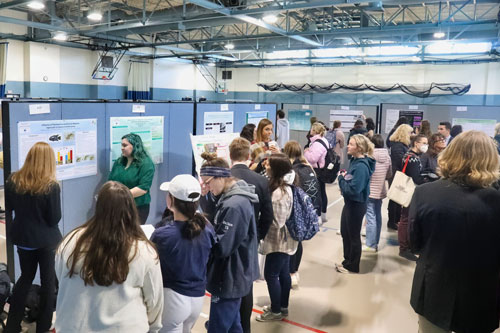 The annual S.O.A.R program, which stands for Showcasing Our Art and Research, celebrated student research and artwork on on April 29. This year more than 60 students were recognized for their outstanding research and artwork from chemistry, psychology, biology, physics, politics and nursing students. "S.O.A.R. is a highlight of at least a year's worth of work for all of these students. They get to show all of their work, the conclusions they've made and the entire scientific process they had to go through along the way," said Biology Professor Elizabeth Greguske.
 
AVERT brings Sexual Assault Awareness to Saint Anselm College through Denim Day
Denim Day was celebrated on April 27 with the goal to "wear jeans with a purpose." Because April was sexual assault awareness month, there were several events and programs on campus about sexual assault survivors. Denim day was triggered by the Italian Supreme Court ruling where a rape conviction was overturned because the justices believed that since the victim was wearing tight jeans, she must have helped her rapist remove her jeans. Now, wearing jeans on Denim Day is recognized as a protest against stereotypes and destructive attitudes regarding sexual assault.
 
Saint Anselm College sends Student Ambassadors to University of Delaware for Dialogue on Civil Discourse
Amani Clemons '24, politics major, Alyssa Stankevitz '23, American studies and politics double major, and Emily Burns '22 politics and American studies double major attended the Stavros Niarchos Foundation's Ithaca Initiative National Student Dialogue this past month. Hosted by the Biden School of Public Policy & Administration at the University of Delaware, these students participated in civil discourse workshops, including discussions on free speech and hate speech. They also worked on identifying a problem at Saint Anselm College and then crafted an action plan to solve it. In addition to the workshops, students spoke with Valerie Biden Owens, President Joe Biden's sister as well as spent some free time exploring the city of Wilmington.
Related Links