Nursing Students Conduct Research Through Flynn Fellowship
September 8, 2020
This year, two Saint Anselm College nursing students were recipients of the Susan D. Flynn Oncology Fellowship. Erin Sargent '21 and Jenna Morrison '21 spent their summers at Wentworth-Douglass Hospital/Seacoast Cancer Center in Dover, N.H., gaining hands-on experience in oncology nursing. During their fellowships, both Sargent and Morrison spent weeks on the Mixed Medical/ Surgical Oncology Unit as well as in the Infusion Center/Radiation Therapy.
The fellowship aims to mentor aspiring nurses with career interests in oncology and cancer treatment. As a part of it, fellows received clinical and observational learning experiences, access to internal educational programs, and the opportunity to meet key hospital professionals. As a part of their fellowship, Sargent and Morrison also conducted "evidence-based" quality improvement projects, and presented the results.
"The impact our fellows have on our organization, including patients and the healthcare team, is felt in the accomplishment of the fellows' Quality Improvement projects," explained Nurse Scientist Kelly Grady.
Sargent's research project titled "Providers' Perceptions of Palliative Care: Earlier is Always Better," focused on the timing of palliative care for oncology patients at Wentworth-Douglas. Her research concluded that palliative care was a successful method of treating oncology patients and could even help identify distressing symptoms when utilized early in the treatment process. Sargent's research on palliative care will certainly prove useful throughout her career.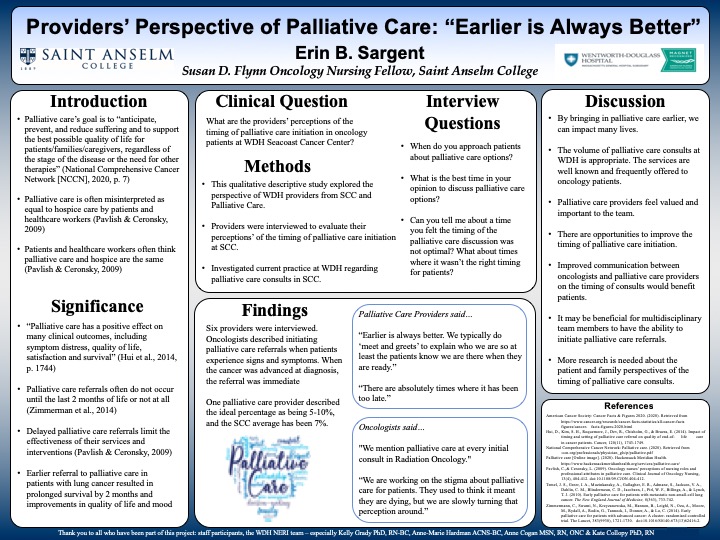 "I hope to pursue a career in pediatric oncology where I will use all of the skills and education that I learned from this fellowship," says Sargent. "I will continue to advocate for my patients and educate them on the services that palliative care can provide."
Also at Wentworth-Douglass, Morrison's research aimed to improve communication between healthcare providers and patients in order to bypass judgment barriers. Her project was titled "Can You Hear Me? Listening to Women with Gynecological Cancers."
"In my work, women reported barriers to symptom identification as a fear of judgment. For example, 'I've downplayed my symptoms, so my doctor didn't think I was crazy,'" shares Morrison. She suggests that all healthcare professionals should listen to women's voices to improve patient treatment and diagnosis.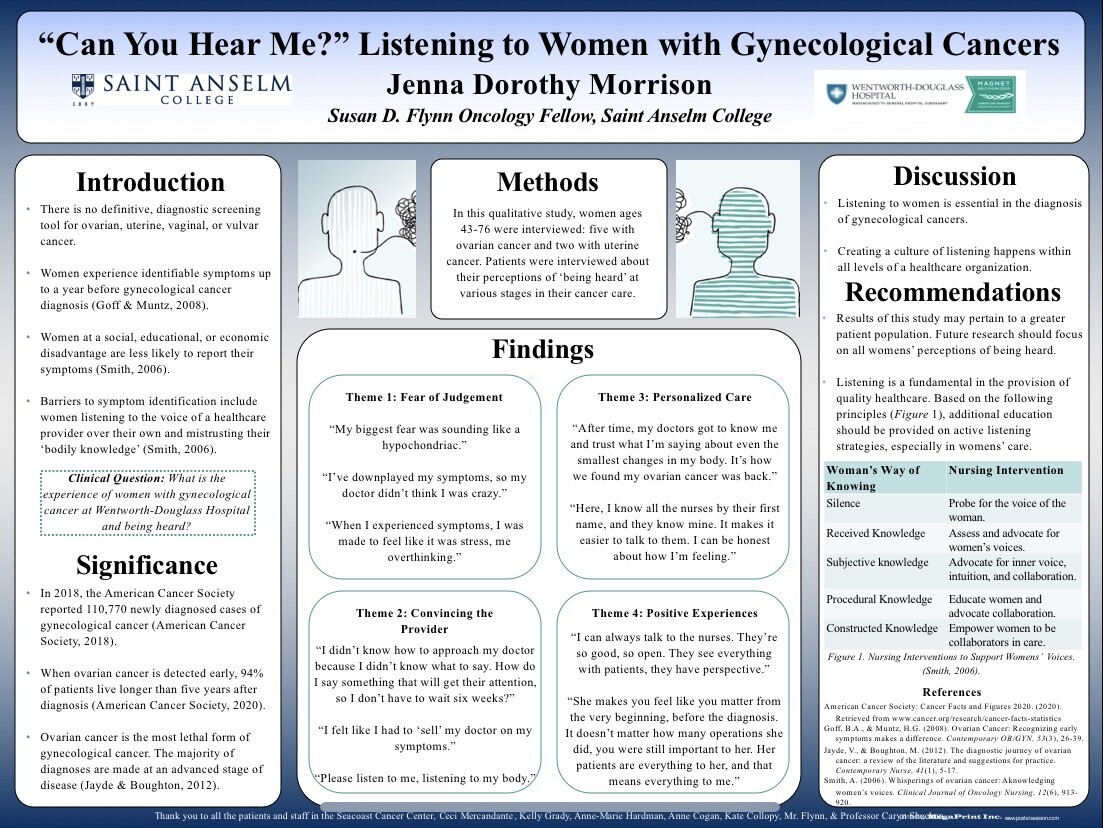 "This fellowship has changed me in so many ways. I could not describe them all. More than anything, I was impacted by the patients--the women--I met this summer. They are the bravest, most thoughtful, and brilliant women I have ever known. Getting to know them was a gift...they will always be in my heart," says Morrison.
Frederick C. Flynn Jr. founded the fellowship in memory of his wife Susan, who passed in 2013 from her battle with ovarian cancer. In appreciation of the incredible nursing given to his wife throughout her illness, he founded the Susan B. Flynn fellowship to mentor aspiring oncology nursing students.
Related News