Community Public Health Course Takes Nursing Students to Costa Rica
March 6, 2019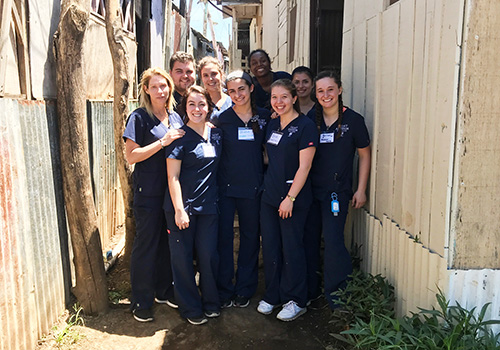 This spring break, eight nursing students are providing nursing care to vulnerable populations through clinical work in Costa Rica as part of the spring semester course Community & Public Health Nursing (NU449). Led by nursing professor Pamela Preston, the junior and senior nursing students are visiting communities and conducting home visits, as well as spending time in a shelter for teenage mothers.
During the week-long trip, they will attend a physician-led class and complete clinical hours that they would otherwise have completed in Manchester. Through this travel component, students become immersed in a new culture while confronting pressing healthcare issues such as communicable diseases, disaster relief, environmental health, and the expense of care in developing areas.
Professor Preston explains that students learn a great deal from their service in Costa Rica where they are tasked with overcoming multi-layered challenges. "All the communities we visit are impoverished, and the patients we see have multiple health care needs. We're also working with very limited resources."
Being fluent in Spanish is not a requirement for home visits, as translators are provided and students are provided with simple Spanish phrases to complete basic health assessments, but the experience still serves to strengthen the nursing students' communication skills and problem-solving abilities. "They have to communicate with people in an entirely different language, who may have many cultural and different beliefs about health," says Preston. "They have to provide nursing care in the pop-up and challenging clinics we set up, and there's many different obstacles they face that they won't see here in America. Their ability to communicate and meet their patients' needs really sharpens as the week goes on; they really grow professionally."
Senior nursing major Mallory Schell has visited Costa Rica with Professor Preston twice; once in January 2018 as part of her Community and Public Health class, and again through a study abroad opportunity for her Spanish minor. "This trip impacted me in more ways than I could have ever imagined. It has helped me direct my nursing care, my future career goals, and my studies. I grew personally and academically," says Schell. "Being able to speak clinically and socially with native Spanish speakers was an incredible learning opportunity and really allowed me to create a stronger connection with my patients."
Jane Bjerklie-Barry, director of Study Abroad, agrees that the trip is eye-opening and "a fantastic, very unique opportunity for nursing majors to have in a community clinic environment."
Nursing students will return to campus on March 10 to continue their exploration of public health issues both in the classroom and through clinical placements at community-based and public health organizations.