O'Brien Named 2020-2021 Fr. Bernard Holmes Scholar
August 31, 2020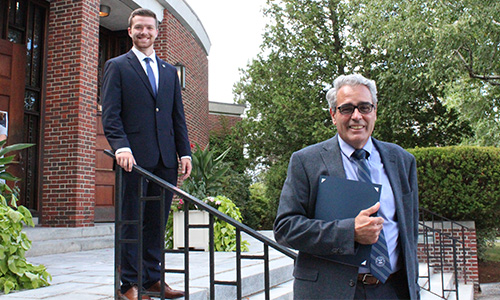 Connor O'Brien '21, an economics major, minoring in psychology from Westminster, Mass., has been selected as the Father Bernard Holmes, O.S.B., Scholar for the 2020-2021 academic year. 
The award is presented annually to an incoming senior, and provides a full tuition scholarship for the student's final year at Saint Anselm College. Bernard Holmes scholars show concern for and work to provide assistance to others, demonstrate leadership potential, and actively participate in the life of the college.
"It was a wonderful moment," says O'Brien about his conversation with President Dr. Joseph A. Favazza, who delivered the good news. "I was full of such gratitude, shock, and I was so honored to be chosen, like really truly honored."
O'Brien is deeply involved in the life of the college where his activities range from secretary of club affairs in student government to a student alumni ambassador to welcoming new students to campus as an orientation leader. 
"It all started out in my freshman year when I walked into campus ministry and I started being an altar server and Anselmian 360 leader and from there things just kept rolling on and on. I found myself saying 'yes' to things and by my sophomore year I had a very full day," says O'Brien. 
Considered a force on campus, O'Brien's "work" also includes room & board committee chair for student government; alter server, WBA participant and member of the liturgy committee for Campus Ministry; Anselmian 360 board member; and member of the Red Key Service Society, Knights of Columbus, and Honors Program. 
"if anyone could measure up to the model set by Fr. Bernard, it is he. For his service, his very sharp intellect, his modest and respectful way of relating to others, for his sense of humor, but mostly for being a force and influence for good on campus, Connor deserves to receive the Fr. Bernard Holmes award." says Bro. Andrew Thornton, O.S.B.
"I do love this place more than I can put into words so for me work here isn't really work. I love to help and this is such a wonderful place with really great people and a really true mission statement. It's just a place that I was really grateful to find," says O'Brien. 
"Saint Anselm College has given me the four most transformative years of my whole life.  I have come so much further than I could have ever fathomed."
O'Brien's service and leadership extends beyond New Hampshire. In his home town he is the director of a free summer camp where he deals with many children of different backgrounds, as well as their parents, and oversees a staff that assists him. O'Brien and his parents also volunteer at his church with children's liturgy classes.
Registrar, Tracy Morgan, further described his leadership among peers when she needed dependable flag bearers for the 2019 commencement ceremonies. "Connor was first to come to mind. He expressed humility at being asked, he took it upon himself to find other Red Key members who would also take the role seriously. He took a leadership role making sure they were all punctual and helped make commencement run seamlessly with this group."
O'Brien is not sure yet where his path will lead to after graduation in May, however, he hopes to pursue a career in higher education. 
College President Dr. Joseph A. Favazza and Chancellor Abbot Mark Cooper, O.S.B., presented O'Brien with a certificate in recognition of his award during the college's opening Mass on Aug. 18, 2020 in the Abbey Church. The scholarship was established through the generosity of Mr. and Mrs. Robert C. Davison, in memory of Fr. Bernard Holmes, O.S.B., former president of the college.