Passing of Former Trustee John T. Paul '70
July 6, 2018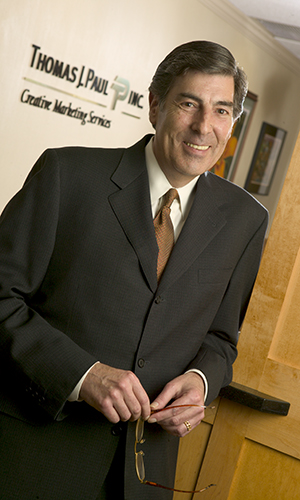 John T. Paul, a former trustee of Saint Anselm College of Huntingdon Valley, Pennsylvania, passed away early in the morning of July 4, 2018. He was 69.
Born on July 25, 1948 in Buffalo, New York to Jane and Thomas Paul, John graduated from Saint Joseph's Preparatory School in Philadelphia in 1966 and Saint Anselm College in 1970 with a Bachelor of Arts in sociology. After graduation he met Judith Ann Savaiano, an honors graduate of Rosemont College and English teacher, while he was working in advertising sales for a consumer baked goods company, and they married in 1972.
John joined his father and siblings to build Thomas J. Paul, Inc., a creative marketing services corporation, where he served as president for over 30 years and led the company to consistent growth through innovation and outstanding service. He settled his wife and young children, Christopher and Laura, in a new house in Huntingdon Valley in 1979 where they still reside. His instincts for leadership and community benefited the Saint David CYO, La Salle College High School, Mount Saint Joseph Academy and his venerable Monday Night Football fraternity. His vision launched countless careers and his mentorship to family, friends, colleagues, and clients will endure for generations.
John's spirit of community and generosity was eminently evident in his support for Catholic education and healthcare. He led capital campaigns for Saint Joseph's Preparatory School, LaSalle High School, Saint Anselm College, Rosemont College, the Mount and the Fox Chase Cancer Center. Beyond the boardroom, John was a consistent donor to numerous causes serving various needs in the community including Holy Redeemer Hospital and the Pennypack Ecological Restoration Trust.
John and his family were incredibly generous to Saint Anselm College over the years, making significant gifts to the Institute for Saint Anselm Studies, endowed scholarships, and to the Saint Anselm Fund, culminating in a seven-figure gift in the late 90's to help fund the construction of Fr. Bernard Court. John followed in his father's footsteps (Thomas J. Paul, HD '83) and served on the Board of Trustees for three terms as a member of the College Advancement Committee and as a member of the Steering Committee for the Campaign for Saint Anselm College. His creative marketing services firm also did pro bono work for the college, including creating the New Hampshire Institute of Politics logo.
He is survived by his wife, Judith Ann Paul (née Savaiano); his children, John Christopher Paul (Marcy), and Laura Lasky (Thomas); his four grandchildren; his seven siblings, and many loving nieces, nephews, great-nieces and great-nephews.
Read the full obituary and funeral arrangements »