Saint Anselm fulfills promise to Class of 2020
May 16, 2021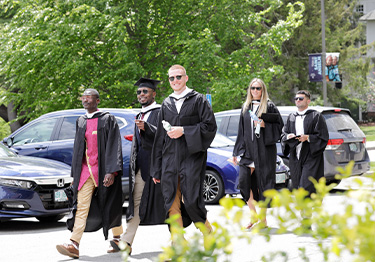 On Sunday, May 16, 330 members of Saint Anselm College's Class of 2020 returned to the Hilltop for a long-awaited celebration of their graduation. the festivities fulfilled a promise made by the college's president, Dr. Joseph A. Favazza, that commencement would be celebrated in person when the coronavirus has subsided to the point where a large gathering would be possible.
"We promised that we would bring you back to your home to give you the opportunity to walk across this platform, in front of (a few) family and friends just as thousands of Saint Anselm alumni have done," Dr. Favazza told the students. "While it has taken longer than any of us could have imagined, we kept our promise, and we are so glad that you are here."
While they had already received their diplomas, members of the Class of 2020 had the opportunity to walk across the stage and celebrate their accomplishments 15 months after leaving campus for the last time as seniors.
"I feel really grateful that Saint A's let us come back after all this time to say goodbye with our classmates," explained Samantha Jette '20, communication major. "It's such a special opportunity to be back on the Hilltop today."
For most of the class of 2020, this was their first opportunity to come back to the Hilltop and see many of their classmates since they left in mid-March 2020.
"I think it was awesome that Saint A's was able to do this event and be able to do it in this type of environment that is safe for everybody," shares Jason Wood '20, an accounting and finance major. "Having us come back has been really fulfilling."
While many of the normal traditions that a graduating class gets to participate in did not get to happen, the Office of Alumni Relations did try to bring one to the event – a senior toast box.
"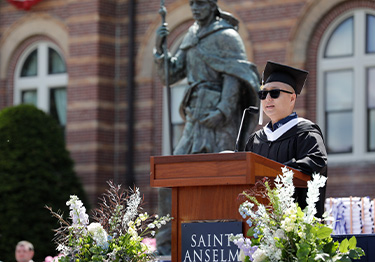 We were excited to be able to provide 'toast boxes' since the class did not have their Senior Sendoff Brunch last year," explained Patrice Russell, assistant vice president of alumni relations and advancement programming. "The boxes included a Class of 2020 champagne flute, a small bottle of champagne, and a Class of 2020 mask."
Alumni speaker Sean P. Connor '20, a communications major, addressed his classmates, talking about the many twists and turns their time at Saint Anselm took, and how the lessons and values they learned on campus provides a way to live in the years to come.
Connor ended his speech saying, "Remember, love casts out fear, and no matter where we go in life, or no matter what crazy obstacle the world decides to throw at us next, we are Anselmian always."
Read Sean Connor's full speech
Abbot Mark Cooper had the opportunity to present the Chancellor's Award to Chloe Ross '20, an accounting and math double major, in person. Ross earned a 3.981 GPA, the highest academic average among her graduating peers.
Read last year's article on the Chloe Ross' Chancellor's Award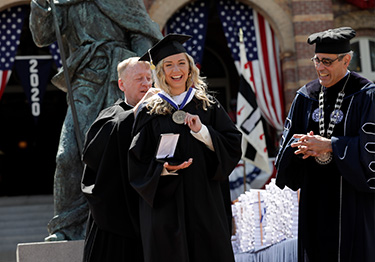 The Class of 2020 will always hold a special place in Dr. Favazza's heart as they were his first graduating class as college president.
"You taught me, a new President and new to the Hilltop, how to live as part of a community in this place. All of the joys, the traditions, the activities, the classes, and relationships that undergird the Saint Anselm experience," shared Dr. Favazza. "As if this wasn't enough, by the end of the year, you taught me resilience, patience, kindness, and grace. Instead of focusing on what was taken away from you, you focused on what was given to you on the Hilltop as you launched into careers, graduate school, or service to others or to the nation."
Dr. Favazza went on to remind them of five things to keep in mind as they make their way through life: gratitude, humility, compassion, learning through failure, and the importance of love. He also took a moment to honor Amanda Conger '20, who won the 2020 NCAA Hockey Humanitarian Award, for donating a kidney to a man in need.
Read Dr. Favazza's full speech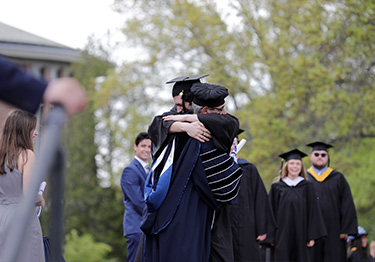 Before crossing the stage, members of the Class of 2020 enjoyed a performance of "HOME," an original composition by Anna Moraitis '20 that she wrote to express how the college became a home and a place of growth.
At the end of the ceremony, Kathleen Mahan '02, alumni association president, officially welcomed the class to the alumni community and reminded them that Saint Anselm College will always be their home.
"No matter how you choose to do it, I urge you to stay connected to the college, visit when you can, stay involved, and give back if you're able … it's what we Alumni do," urged Mahan. "You are one of us, and we are here for you. Together we are Anselmians."
Read the full speech from Kathleen Mahan '02
From the smiles, cheers, and laughter that was present throughout the ceremony, it was clear that the day was a celebration not only for the Class of 2020, but for all of the parents, faculty, and staff present.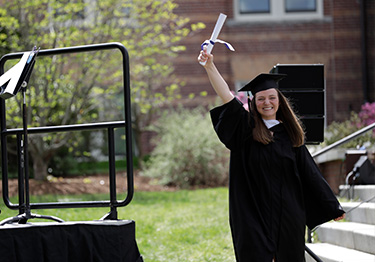 "We're all really thrilled to be back on campus and be back together," shares Caroline Ihlefeld '20, psychology major. "It feels like coming home. It's a beautiful day and I wouldn't want to spend it anywhere else."
Class of 2020 Commencement Photo Gallery