Saint Anselm President Dr. Steven R. DiSalvo to Step Down in 2019
October 12, 2018
Chair of Board of Trustees Ann Catino calls progress during his tenure "remarkable," says president's contributions ensure the well-being of the college today and into the future.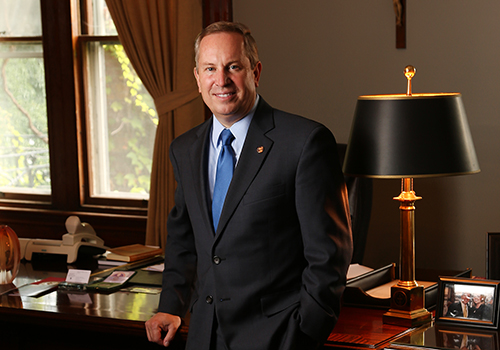 The Board of Trustees of Saint Anselm College today announced that college president Dr. Steven R. DiSalvo has informed them that he will be departing his position effective June 30, 2019.
Chair Ann Catino '82 said that the Board expressed its appreciation to Dr. DiSalvo for the impressive achievements during his tenure as the tenth president of Saint Anselm College.
"Since Dr. DiSalvo's arrival more than five years ago, the progress that Saint Anselm College has made has been remarkable," said Ms. Catino. "We were lucky to have his leadership for the achievement of so many strategic goals, and we are extremely grateful for the contributions he's made to ensure the well-being of the college, not only today but for many years to come."
Dr. DiSalvo said, "I'm very proud of the many ways the college has grown and developed during my tenure as president. It's a challenging time in higher education, yet this community has thrived on so many levels. I feel a great sense of accomplishment in knowing that I am leaving this institution in a position of real strength academically, financially and in the marketplace. I've loved being part of such a wonderful community, and will always value the relationships formed in my time here."
Highlights of Dr. DiSalvo's accomplishments include:
Growing enrollment from 508 freshmen at the start of his tenure to 591 freshmen in Fall 2018, culminating in the college enrolling the second largest and second most academically qualified class in history.
Launching the Faith in the Future Capital Campaign, which has already raised $62M towards its $70M goal.
Overseeing nearly 50% growth of the college's endowment, from $106M to $158M.
Steering Saint Anselm to an impressive rise in the U.S. News and World Report ranking of national liberal arts colleges from #120 to #95.
Leading efforts to bring retention rate for first-year students to an all-time high of 91% and a record four-year graduation rate of 81%.
Completing over $48M in capital improvements including the opening of the Roger and Francine Jean Student Center Complex, the Living Learning Commons (a 150-bed living/learning residence hall), the McNeil Campus Gateway, and the campus Grotto.
Developing new centers and institutes such as the Center for Ethics in Business and Governance and the Gregory J. Grappone Humanities Institute, which reflect the college's commitment to promote and provide opportunities for civic engagement, a liberal arts education that fosters intellectual, moral and spiritual growth, and experiential learning for faculty and students.
Implementing and expanding the study abroad program in Orvieto, Italy to provide enhanced opportunities for global student experiences.
Hiring the college's first Chief Diversity Officer, affirming the strategic vision and Benedictine values of welcome and inclusion.
Realizing unprecedented competitive success for Hawks Athletics including 24 NCAA championship appearances and a first-ever national championship softball game in 2018.
Reaffirming the New Hampshire Institute of Politics as a key destination for all Presidential candidates, U.S. Senators and Representatives and local candidates, and growing major network and national media coverage significantly.
Abbot of Saint Anselm Abbey and chancellor of the college Abbot Mark Cooper, O.S.B. '71 said, "Much has been accomplished during Dr. DiSalvo's years as president, and all of us are most grateful for our current strong enrollment, our ever-increasing endowment, and especially for the recent news of our making the list of the top 100 liberal arts colleges in the United States. We welcomed Steve, his wife Eileen, and their three sons to Saint Anselm College, which continues to grow in its Catholic mission and build upon its Benedictine heritage. Now we wish the DiSalvos well and God's grace as they transition to new opportunities beyond our Hilltop."
"Steve has had a very successful tenure; under his guidance, the college has prospered and that success has been recognized by both regional and national ranking organizations. Saint Anselm was fortunate to have him, and he will be missed," said Roger Jean '70 HD '06, Secretary of the Board of Trustees and benefactor of the Jean Student Center.
During DiSalvo's time as president, Saint Anselm has set new records for enrollment and contributions from alumni and other supporters. Enrollment has consistently surpassed goals for quantity, academic quality and diversity; with over 2,000 students on campus this year, the college's Strategic Plan performance goal for 2020 has already been exceeded. In the past year alone, gifts and commitments of $10.5M surpassed fundraising goals by $1.5M; the Saint Anselm Fund, which amongst other things provides student scholarships, far exceeded the goal of $2.63M by raising over $3M.
DiSalvo has also emerged as a strong national voice advocating for collective solutions to the student debt crisis and college affordability. Through op-eds and interviews with prominent media outlets including The New York Times, Reuters, The Wall Street Journal, and The Boston Globe, and through his work with the National Association of Independent Colleges and Universities (NAICU), where he was a member of the Board of Directors representing the northeastern states and led the Committee on Student Aid, he helped focus a conversation to aid students and their families in affording higher education and to assist academic institutions in their mission to serve them.
A search committee headed by Board Vice Chair Geraldine DeLuca '77 and Trustee Charles Crowley '81 is being formed. The committee will be made up of representatives from college constituent groups including Saint Anselm Abbey, the administration, the faculty, the student body, and the alumni community, who will work with a search firm to determine Dr. DiSalvo's successor. "We look forward to the next chapter in Saint Anselm College history and to building on our momentum with great faith in the future," said Catino.