Saint Anselm Sets New Records for Enrollment, Retention, and Graduation
October 5, 2018
According to final census data for the fall of 2018, for the first time in Saint Anselm College's 129-year history, total college enrollment surpassed 2,000 with 2,015 degree-seeking students. The most recent retention rate for first-year students is at an all-time high of 91% and the four-year graduation rate is the highest on record at 81%.
"Saint Anselm continues to be a very desirable option for prospective students as demonstrated by our increasing demand over the past several years. This increased demand has led to record enrollment; it's a testament to our wonderful community who provide a top-notch educational experience for our students," said Eric Nichols, vice president for enrollment and dean of admission.
"Still, bringing in new students is only part of the equation—keeping them in school and helping them graduate is equally important. Our record retention and graduation rates are further indications that our increasingly strong academic incoming classes are well-prepared and they are being supported with student programming and opportunities to help them succeed thanks to our dedicated faculty and staff."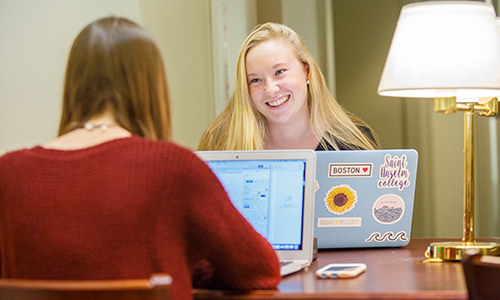 Enrollment data is showing growth in several areas. In addition to seeing a four percent increase over last year's total enrollment, this fall is also the third consecutive year of overall increased enrollment. The college continues to make important strides in the area of diversity and inclusiveness; overall student body is 10% diverse for the first time in college history, this year being the third consecutive year of growth in this area, and the college currently enrolls the most international students since 2005.
This year's class of 591 first-year students is the second largest class on record, an eight percent increase over last year. The class of 2022 is also the second strongest academic class on record as measured by an average high school GPA of 3.28.
"Our admission, financial aid, and marketing teams with the help of our wonderful college community, worked diligently to recruit, select, and yield this class, and we are very pleased with the outcome," said Nichols.
Record-Breaking Retention and Graduation Rates
The record-breaking first-year retention rate of 91% was posted by the class of 2021 who enrolled at the college in fall 2017, well above the current national average of 72%. In addition, the sophomore retention rate for the class of 2020 is also the highest on record at 87%.
Students who enrolled at Saint Anselm in fall 2014 and graduated in May 2018 broke the college's four-year graduation statistic with 81%.
The college's retention and graduation rates are a testament to the college's support of students through his or her college journey. Chair of the retention committee and assistant dean for sophomores and student support Services Anne Harrington says college programming, collaborations, and faculty support all play into maintaining a high retention and graduation rate.
"I believe the strong admission numbers and the very impressive retention rate speaks to several things: first, both current and prospective students recognize the first class academic experience they receive in the classroom, and they are keenly aware that our faculty's dedication to the individual student is a distinguishing feature of a Saint Anselm education," said Dean of the College Mark Cronin.
Focusing on the Student Experience
In the fall of 2016, the college instituted a four-class dean system so an individual dean is assigned a class year. This structure allows for more personal attention and individualized support. Typically, deans at the college monitor and support progress towards degree completion and academic good standing. However, this also means deans are working more closely with the Academic Resource Center (ARC) and with the Office of Financial Aid to ensure their students are receiving the assistance they need to succeed.
Harrington lists the many efforts currently in effect on campus to improve student success, including tutoring and academic assistance at the ARC, pre-orientation programs like Anselmian 360, Transitions, and Passages, new student orientation, and the Conversatio first-year seminar course. She also emphasized the role faculty play in the lives of students. "I can't say enough about them: what they do in the classroom, the time they take with each student as advisors and as professors, and their involvement and feedback they provide to the dean's staff in supporting each student," Harrington said.
Alicia Finn, dean of students, believes the record numbers are also a result of the college's focus on engaging and empowering students. She points to the increase in student programming across the board including by Residential Life and the Office of Student Engagement and Leadership as well as the increase in leadership programs to help students continue to grow.   
"Our community is dedicated to our students and keeps them central to all we do," said Finn. "As a college, we have a lot to be proud of."
Related Links