The Sarah Show: Two Seniors Present their Senior Art Theses
April 13, 2022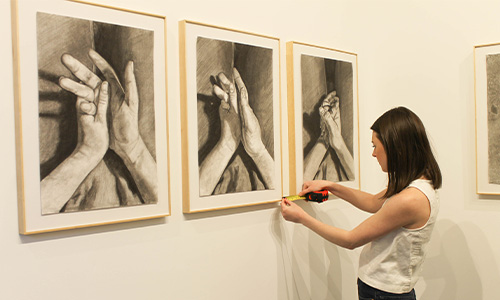 Senior Fine Arts majors, Sarah Spencer and Sarah Best exhibit their final Senior Thesis Exhibition in the Dana Center Alcove Galleries on April 11, 2022 .  Head of the art studio program, Professor Asbury joked, "it's the Sarah show!" Both Spencer and Best presented their works to faculty approval on April 1, 2022.   
"The long-term project is key because it takes them out of the usual classroom assignments to develop their own work and voice to take it to a professional level" explains Kimberly Kersey Asbury, professor of fine arts, "They develop a work habit and it gives them a portfolio."
Sarah Spencer is a double major in Classics and Art Studio. Spencer took a mixed media approach to her portfolio. Spencer's style is grounded in historic and figurative work. The collection she created was inspired by Roman poet Ovid's Metamorphos. Like Ovid's poem, she wanted to express elements of transformation with different materials and techniques in art; painting, weaving, and pastels.
"I think that I have enjoyed the freedom of the thesis project the most, being able to work on my own terms and feeling like a real, independent artist," reflects Spencer. "The exhibition and installation aspect makes all the work really worth it. As a Fine Arts major, you have this show to look forward to all four years, and now that it's almost here is quite surreal. My favorite piece has to be the Arethusa piece with oil paint and yarn, as its development throughout the year was somewhat all over the place."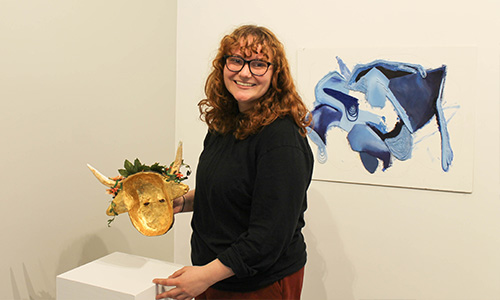 Sarah Best is a double major in Economics and Art Studio. Best researched contemporary and historic figurative drawing to expand her knowledge and inspire her own works of art.
Best reflected on her own personal theme of introversion for her exhibition by using her favorite medium charcoal. Best's drawings are cropped and focused on the hands and feet, which represents an introvert's shyness and hyper focus on little details. Best challenged herself by making the drawings larger in scale on BFK Rives paper.
 "As for my favorite piece, I would have to say the hand on the chest drawing, as this piece speaks the most to me emotionally, and I hope that others can relate to it as well," shares Best.
Building the exhibition was also an opportunity to learn. Best and Spencer created their works of art and then had to install the pieces into the gallery the way they envisioned.
"In addition to actually drawing my pieces, the framing process was something that I did not expect to enjoy so much out of this entire experience," shared Best. "With the help of Prof. Asbury and Prof. Eshbaugh, I was able to build my own frames to be hung in the alcove gallery. Though this was a labor-intensive process, I feel that framing really elevates my work and shows the care that I put into my thesis as a whole."
The senior thesis exhibit will be open through August in the Dana Center alcoves. Please visit the Dana Center website for up-to-date visitor information and hours.
Related Links