Sixty-one First Year Students Inducted into Honor Society
May 19, 2020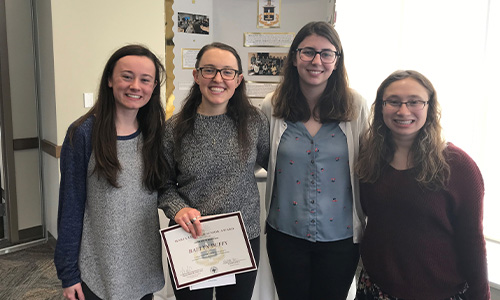 This spring, 61 Saint Anselm College students were accepted into Alpha Lambda Delta, a national scholastic honor society for first-year college students.
Alpha Lambda Delta considers for membership those undergraduates with an academic ranking in the top 20% of their class, and who maintained a 3.5 or higher grade point average (GPA) during their first term or first year of study. Candidates must also demonstrate dedication to intellectual activity and service to their community.
In addition, honor society member Janelle Fassi '21, a communication major, was recognized with the Leadership Legacy Award by the chapter; she also received the Trow Undergraduate scholarship for the 2019-20 academic year. Senior psychology major Baelyn Duffy '20 received the national Maria Leonard Book Award.
In New Hampshire, Saint Anselm College is the only institute of higher education with an active chapter of Alpha Lamba Delta, although it is one of over 275 chapters nationally.
2020 Inductees, Members of the Class of 2023
Joanna Archambault
Julia Azzari
Hannah Rae Bates
Merrick Bilodeau
Carter Christopher Brannon 
Isabella Noel Brogna Daly 
Emily Joyce Butler 
Cathleen Cassels
Emma Chestnut
Aidan A. Clougherty 
Caroline Frances Condon 
Jacqueline Conroy
Finola Kelly Corcoran 
Abigail Couture
Maura Carden Crump 
Tyler J. Cullen
Rachel Margaret Davidson 
Brenna K del Llano
Julia Doucet
Kyle J. Doyle
Mackenzie Newman Evans 
Guillermo Fata Alcaraz 
Ariana Fay
Delaney Flanagan
Gina Rose Gagliardi 
Emma Grace Goulet 
William Harvey
Sydney Hines
Noelle Marie Honan 
Kevin Jordan
Adysn Rae Kilty 
Jacob Lamontagne 
Paige Olivia Lapriore 
Riley Lavin
Jessica Long
Ryan W. Lukas 
Alexandra Lynch 
Brendan A. Maloney 
Noah A. Manuel 
Kathleen Mary McCarthy 
Cameron McIntire
Dan McLoughlin 
Brandon Nazar 
Timothy P Niemaszyk 
Molly O'Brien 
Ximena Osorio 
Jessica M. Pelletier 
Aidan Smith Pierce 
Olivia Ridge
Hayden Y Rogers 
Spencer Charles Rose 
Anna Joan Sheehan
Jack Shibles
Sarah Hope Siudut 
Angela Rita Slaybe 
Sarah Spencer 
Marcel Stypulkowski 
Grace Trabucchi 
Jessica Tranfaglia
Kylie Warren
Stefan Raymond Zwolinski