Social Work Major Receives Award for Service to Community
June 15, 2020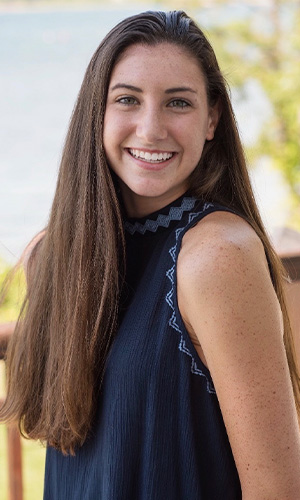 Theresa (Tess) Beardsley '21, a social work major and psychology minor, from Medfield, Mass., was chosen to receive New Hampshire's Campus Compact Newman Civic Fellowship for her leadership and dedication to serve the community at-large.  
Offered by the Campus Compact, a national coalition of over 1,000 colleges and universities dedicated to the public purposes of higher education, the Newman Civic Fellowship honors students nationwide who have demonstrated their commitment to social change and worked to find solutions to face challenges in their communities.
Beardsley was nominated for the fellowship by Saint Anselm College President Joseph A. Favazza, Ph.D., who believed that her actions mirror the beliefs and deeds of Dr. Frank Newman, founder of Campus Compact who was a strong advocate for fostering student civic learning, participation in service, and community engagement.
Before arriving on the Hilltop, Beardsley was the president of her high school service club. "It wasn't until college that I began to understand the depth of community engagement opportunities and the importance of those experiences to build awareness," says Beardsley.
Through the college's Meelia Center for Community Engagement, Beardsley began as a service-learner and connected what she was learning in her social work courses to her community engagement. She then became a site coordinator for the Sununu Youth Services Center (SYSC), a residential facility for court-ordered juveniles. There, student volunteers, like herself, were exposed to and developed an understanding of the systemic issues impacting disadvantaged youth such as poverty, addiction, and unequal access to resources.
Now, Beardsley is a community support manager for the Meelia Center where she helps manage a staff of over 90 students, facilitates group discussions, and organizes professional development opportunities.
"Tess' well-developed dialogue facilitation skills allow her to play a leadership role in assisting volunteers, service-learners, and student engagement leaders as they examine and challenge the root causes of the structural barriers faced by many community members," says President Favazza.
Beardsley is also involved in other programs at Saint Anselm. She helps to lead a Good Grief group for those who have lost loved ones and coordinates Hunger and Homelessness Awareness events on campus.
Related News