Students Gain Private Sector Research Experience during Summer iSURF Program
September 24, 2021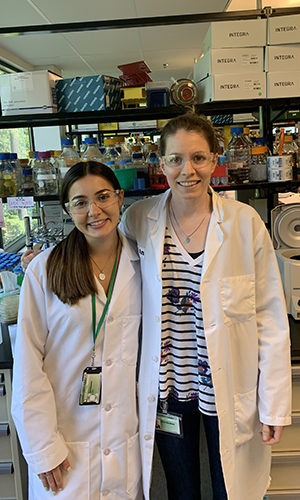 Seniors Lia Guerette '22 biology major and Amber Topping '22 chemistry major spent their summer at Dartmouth College, conducting biomedical research through the iSURF program. This program, which only accepts 10-12 students, places students at biotech companies located in and around Lebanon, N.H.
Guerette and Topping were placed at Mascoma, LLC where they worked with genetically engineering yeast and bacteria. Guerette worked under scientist Anne Woodbrey while Topping worked under Thomas Malott.
Guerette recalls that both Woodbrey and Malott were "amazing to work with - so intelligent and patient with us as we adjusted to working full time in the lab!"
The iSURF program is a part of the New Hampshire Idea Network for Biomedical Research Excellence (NH-INBRE) program. The program provides a 10-week summer research experience for undergraduate students. Students are matched with opportunities that complement their current research interests and career plans. Both students participated in the industry part of iSURF which was created to give students research and development experience in the private sector.
"Experiences like the iSURF program are invaluable for our students," explains Christine Gustafson, Dean of Academic Excellence. "Not only do they connect them with professionals in the field doing cutting-edge research, but they allow for intellectual growth and creativity. Our students get great mentoring, can see how their major and core coursework can be applied to potential careers, and they gain experience that sets them apart if they want to apply to graduate school."
Guerette and Topping had weekly meetings with Dr. Yina Huang, a microbiology and immunology professor at Dartmouth who is also the director of the iSURF program. The students also attended evening sessions with Dartmouth professors where they read and presented scientific journal articles, had conversations with NH-INBRE alumni, and listened to biotech talks.
Guerette and Topping finished their summer research by presenting their findings at the annual state-wide NH-INBRE conference which was held at the beautiful Omni Mount Washington Resort. In addition, Topping was hand selected to present her research in an oral presentation.
Topping said the experience was, "a great way to help me both grow my public speaking skills and learn how to effectively communicate my research findings to other people in the scientific community!"  
Both students expressed how the experience allowed them to gain more knowledge and confidence in the field.
Related Links