Students Overcome Challenges to Walk 2020 Road for Hope
October 2, 2020
On Sat., Sept. 19, Saint Anselm College students embarked on the annual Road for Hope. However, this year's event joined many other college traditions that had to be altered to prevent the spread of the COVID-19 virus.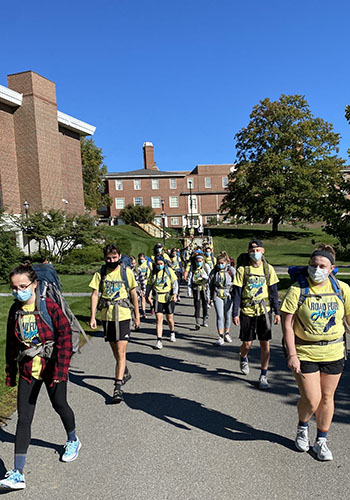 This year, the journey, traditionally a 130-mile pilgrimage from Lewiston, Maine, was modified so that 45 Saint Anselm College students as well as one monk walked nine miles across the campus, honoring each of the nine charities the walk annually supports. All students were required to abide by the Community Care Covenant, including wearing masks and socially distancing.
Although the physical journey this year was significantly scaled-down, leaders and officials have not undervalued the students' impact on the program. Campus Minister Riley Casey '15 explained that reflecting on the true meaning of the Road for Hope helped them decided how to handle this year's program.
"We began to think of what Road for Hope is at its core and brainstorm how we could honor all that it is, while abiding by the new guidelines," said Casey. "Road for Hope is about supporting charities, creating community, living simply, honoring faith, all while also being a physical, emotional, and spiritual challenge."
Student participant Brooke Blackburn '21 also answered some questions on how much the event has changed between this year and last year's.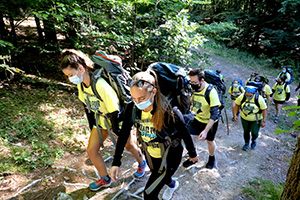 "Obviously, this year comes with a much different set of challenges, and it is certainly a different experience from years past. However, even in these trying times, we could meet new people and still work towards a common goal," said Blackburn. "Our fundraising is still able to leave a significant impact on our charities, which makes us all proud."
As of September 19, the Road for Hope has fundraised just over $19,000 with a goal of $22,700. The program hopes to donate $2,300 to each of the charities as well as cover expenses. This year's charities are Community Concepts, Good Shepherd Food Bank, Birthline and Catholic Charities, York County Shelter Program, St. Charles Children's Home, Rochester Recreation Arena and Youth Services, Candia Moore School Drug Awareness Program, Kid's Cafe, Upreach Therapeutic Riding Center.
At 3 p.m., after completing the nine miles, walkers were welcomed back to the Quad by their fellow students, and they spent the evening together in reflection and fellowship.
Road for Hope Leader Chris Millett '21 praised the event organizers for keeping the charities at the center of attention. "From walking a mile for each charity to being intentional in conversations and reflection about community and advocacy, Road for Hope 2020 tried it's best to keep the nine charities it walks alongside with at the forefront," said Millett.
In 1998, the tradition began as Seamus Griesbach chose to walk from his hometown of Lisbon, Maine to start his freshman year at Saint Anselm College. In his travels, Seamus, alongside his younger brother, walked roughly 130 miles. The following year, Seamus recruited 30 of his friends to join him on the journey. The pilgrimage soon became a way to raise funds for charities between Lewiston, Maine, and Manchester, N.H. Seamus decided to choose from small charities to spread the most significant impact possible.
Related News