Taking the First Step: MLK Dinner Recognizes the Spirit of Social Justice in Students and Faculty
January 24, 2019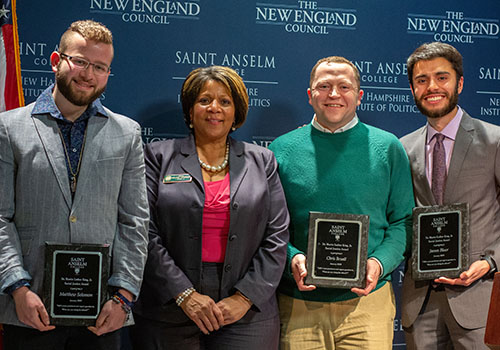 On Tuesday, January 22, Saint Anselm College recognized the admirable legacy of Dr. Martin Luther King Jr. with the sixth annual MLK Jr. Dinner and presentation of Social Justice Awards. This year's recipients were James Bloor '19, criminal justice professor Chris Bruell, and Matthew Solomon '20.
Bloor, Bruell, and Solomon, nominated by their peers and were selected for their leadership, courage, and efforts to promote social justice both on and off campus, as well as their advocacy for inclusion, acceptance, and compassion on campus.
"[Bloor] has been a leader in inclusive ideologies throughout the Intercultural Center, the Office of Diversity and Inclusion, the Meelia Center and other departments on campus. He leads by example, acting as a guide to all on how to act professionally and interact with people of all backgrounds with respect. He has dedicated his time here at Saint A's to building multiethnic and multiracial coalitions and advocating on the behalf of historically underrepresented and underserved communities." said Fr. Jonathan DeFelice Intercultural Center Director Wayne Currie. "[Solomon] is admired for his courage, integrity, the unrelenting forward movement, for the unobtrusive matter-of-factness of his commitment to community. He embodies what it means to be Anselmian because he welcomes and fights for everyone- no matter their race or sexuality."
"Professor Christopher Bruell of the criminal justice department was chosen by the MLK Jr. Planning Committee because of his dedication raising awareness of oppression and injustice in society," said Currie. He noted that Bruell is deeply involved throughout the Manchester community, working with the Manchester Police Athletic League, the New Hampshire Judicial Council, the Women's Prison Advisory Board, Hope for New Hampshire Recovery, Dismas House, Sununu Youth Services Center, and the YWCA of Manchester. He is also an advocate for sexual assault prevention both on and off campus.
During the student-organized dinner, which brought over 100 students and faculty members together in the NHIOP auditorium to celebrate Dr. King's memory, guests also heard from other students and faculty. Sue Gabert, director of Campus Ministry, offered a blessing. James Bloor '19 emceed the event, while Jenoyce Laniyan '21, Gabriel Lopez '20, and Julia Swazey '19 all recited poems. Kelsey Lutchman '22 and Angelidi Monegro '19 also spoke.
Monegro, a senior and student leader in the Intercultural Center, offered a reflection on her transition to Saint Anselm four years ago. She wasn't always comfortable, but found friends and faculty who made campus feel like home. "Throughout life we are all going to experience uncomfortable times; from these we will continue to grow and gain strength," said Monegro, "Martin Luther King Jr. wasn't afraid of being uncomfortable. He took the necessary steps for us to be able to be feel comfortable today. I can say that I feel comfortable on this campus and am glad I made the choice to come to Saint Anselm. I encourage you to take all the opportunities you can that will further unify us and improve our future."
The dinner also featured a keynote address from Senator Melanie Levesque, the first African American female state senator for New Hampshire. Currie explained that Levesque is an excellent embodiment of this year's MLK programming and dinner theme, "Taking the First Step." She attended high school and community college in New Hampshire before continuing on to a degree from Southern New Hampshire University (SNHU) and a successful career in business and government. "She serves as a great role model; we are so excited to have had her on campus," he said.
Throughout the rest of the month, the college will continue to honor Dr. King with diverse programming sponsored by numerous departments, clubs, and organizations on campus, ranging from a digital exhibition of African American Voices in Geisel Library to a performance by the Archdiocese of Boston Black Catholic Choir. This year's celebration is sponsored by the Office of Campus Ministry, the Catholic Social Teaching Fund, the English department, the fine arts department, French Club, Geisel Library, the gender studies minor, the Grappone Humanities Institute, the Intercultural Center, the Meelia Center for Community Engagement, the Multicultural Student Coalition, the Office for Diversity and Inclusion, the peace & justice studies major, Philosophy Club, the politics department, Office of Residential Life, Saint Anselm Men's Baseball Team, the sociology department, Student Engagement and Leadership, Student Government Association, TEDA, the Honors Program, the Latin American studies minor, and the theology department.