A Heroic Connection: Capt. Ann Darby Reynolds '61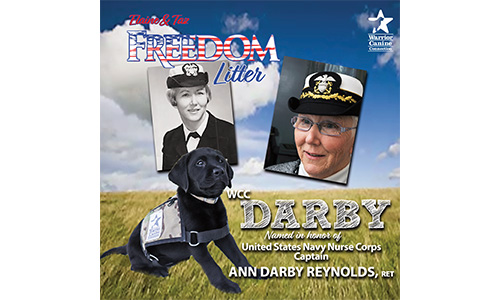 Capt. Ann Darby Reynolds' active career as a Navy nurse is more than 30 years in her past, but she is still helping others—and maybe even saving lives—through her service. A black Lab named in her honor will be an invaluable aid to a veteran in need of therapeutic intervention. The dog, named Darby, is being trained by the Warrior Canine Connection (WCC), a nonprofit organization that trains mobility service dogs and names its dogs for fallen or inspiring service members.
"Inspiring" describes Reynolds, one of the first women to receive a Purple Heart for her service in Vietnam. She was commissioned as an ensign in the Navy Nurse Corps in 1962 and served as a staff nurse at the Naval Hospital Pensacola, Florida, and at Camp Lejeune. While home in New Hampshire on Christmas leave in 1963, she received a special delivery letter notifying her of new orders to Navy Station Hospital Saigon, Vietnam. Exactly one year later, she was one of four Navy nurses injured when a bomb detonated at their living quarters. Reynolds remained in Vietnam after being wounded. In 1965, she was assigned to the Army 8th Field Hospital, Nha Trang, close to heavy fighting. She has received many medals and awards in addition to the Purple Heart Award and two Meritorious Service medals. In 2013, she was awarded the Alumni Award of Merit by Saint Anselm College.
"I feel honored to have been chosen to have my name used for one of WCC's dogs," says Reynolds. Her nomination—which came as a complete surprise—was submitted by a member of the Navy Nurse Corps Association.
Darby the pup is among more than 100 namesake dogs. At her home base with her "puppy parents" and professional trainers, she will undergo an intense two-year training process and graduate with her class (although, occasionally, a dog in training has a career change).
Born to the "Freedom Litter" of 10 in May 2019, she joins fellow canines named for individuals who have served in different ways, including paralympian Melissa Stockwell and astronaut Eileen Collins. Some names are easily recognized, like statesman Bob Dole and former secretary of defense Gen. James Mattis. Most are not.
"You may not recognize the name, but each story is profound," says WCC's Namesake Program Coordinator Alyssa Malaspina. "This is one way we can keep telling their stories so that their legacies continue to live on. Our dogs have changed the lives of veterans. If the namesake is deceased, his or her family gains a sense of hope in the midst of their sadness. What better way to honor these inspiring individuals?"
Darby the dog is already carrying her business card in her vest, so that anyone who meets her can learn who her namesake is and find out more about WCC.
The captain loves sharing stories about the "other" Darby, and the good work of the WCC. She also is hard at work sharing her own story; she's currently writing a memoir of her Navy career.
 
By Laurie D. Morrissey
---
A Path Home for Veterans: Jeff Nelson '99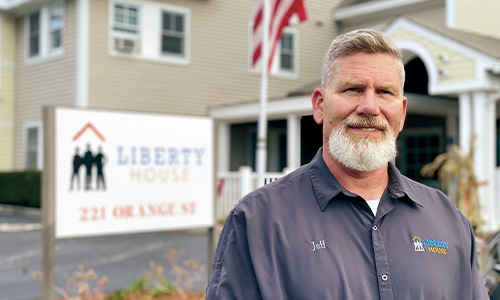 There's no way to tell for certain how many of New Hampshire's veterans are homeless, but it's a significant number. Fortunately, there are people like Jeff Nelson '99 who, as executive director of Manchester's Liberty House, is providing relief for struggling veterans and helping them move toward independence.
Since its opening in 2004, Liberty House has served more than 350 homeless veterans as residents of its transitional housing. In addition, before the pandemic, it was serving on average 170 veterans in the community each month, providing them food, clothing, bus passes, gas cards, camping gear, information and referrals. Nelson has been executive director since 2017.
"I'm not a veteran," Nelson says, "but I'm retired from a career in law enforcement and many of the people I had the pleasure of working with were veterans and transitioning to serving veterans was very comfortable."
One of Nelson's law enforcement jobs was as commander of detectives at the Goffstown Police Department. During his entire time there and while raising two sons, he was also a part-time student at Saint Anselm. "It took me 14 years to earn a bachelor of arts degree, but it was one of the most significant experiences in my life," Nelson says. "First, it required discipline over a fairly long period of time. Second, the humanities lectures, classroom discussions and readings were enriching." And third, he adds, it provided a good example for his sons.
With his degree in hand, he became chief of police in Dunbarton. But, again, he became a student while working full-time, first getting a master's in education from Plymouth State University and then a master's in public administration from UNH. Eight years later, in 2015, he got another master's, this time in divinity. He would then serve as volunteer chaplain for the NH Association of Chiefs of Police. "I have a deep faith and a Christian worldview," he says. That worldview carries into his work at Liberty House, which he calls "a meaningful ministry."
Last year, his work entered a new phase; Liberty House became part of NH Catholic Charities. Nelson says that has provided immediate benefits: "First, it enabled us to move into our new home." The new home, still in Manchester, is much larger; instead of 3,700 square feet, it is 16,000 square feet, making it able to accommodate 24 residents rather than just nine. Additional space is also being renovated to create a veterans center. Another plus, Catholic Charities provides many of the support functions for the facility and its small staff—accounting, payroll and IT among them.
The biggest challenge for Nelson is that there's more to do and all operational expenses are funded by private donations. "We don't have sufficient resources for veterans who are in need of services such as detox, post-traumatic stress programming, et cetera," he says.
Despite the ongoing challenges, Nelson feels the rewards of his work at Liberty House are well worth the effort. "The biggest reward," he says, "is seeing veterans commit to a healthy path toward independence and experience success."
By Barbara Coles
Also in the Issue
Past Issues