Conducting research is a central part of studying history. Research experience makes our graduates attractive job candidates and helps them with admission to graduate programs in history and other fields. The History Department offers a variety of research opportunities, including assignments in our classes, paid research assistant positions, internships, and as part of student/faculty research grants.
For more information about research opportunities and policies, visit our Advising Resources page. 
Highlights on History Department Student Researchers
History and American Studies Majors at Saint Anselm are able to participate in a variety of research opportunities. These are offered as assignments in the classroom, paid research assistant positions, as part of student/faculty research grants, and more.
Current Paid Student Research Positions
Visualizing Data: Ecclesiastical Subsidies in 16th-century Spain

Professor Perrone: approximately 56 hours in the fall (two students) with continuation if desired in spring.
Several students are currently helping Professor Perrone on a project that furthers research on royal finances and church-state relations in sixteenth-century Spain by offering new datasets to analyze and raising new questions to explore. This is being done by completing databases on the ecclesiastical contribution to the king of Spain (Charles V) for ArcGIS (a computer-based data visualization program) and preparation of a short publication on the databases for other scholars. These students are, additionally, transcribing data for Excel databases, writing instructions for their use, drafting introductory content for the historical material, and compiling a bibliography.

5th New Hampshire Project

Professor Dubrulle: approximately 40 hours in the fall (one student) and 40 hours in the spring (one student).

As part of a research project concerning the 5th New Hampshire Volunteer Infantry during the American Civil War, Professor Dubrulle is currently having research assistants transcribe letters written by soldiers in the regiment, index letters that have already been transcribed, and use FamilySearch to find documents (e.g. census records) that help locate the whereabouts of soldiers both before and after the war.

Mary Clark Biography

Professor Salerno: approximately 40 hours in the fall (one student) and 40 hours in the spring (one student).

As Professor Salerno prepares a biography of New Hampshire abolitionist Mary Clark for publication, she is having student researchers run research queries on the web and in scholarly databases for new or updated information, check all citations and find missing ones within her manuscript, and check all quotations for accuracy. These students also read chapters of Professor Salerno's manuscript for clarity and precision from time to time.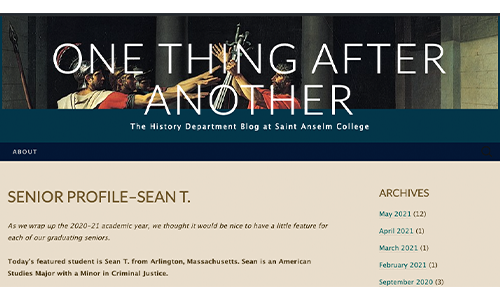 History Blog
One Thing After Another, the History Department's blog, will publish engaging information not only about the History Department at Saint Anselm College but also about the discipline of history in general.