A Word from Dr. Ande Diaz, Chief Diversity Officer
As members of an interconnected society, we are witnessing the pain, suffering, and trauma our brothers and sisters are experiencing across the globe from the Middle East regions to our neighboring state of Maine. Our hearts and souls mourn for the loss of life and basic human decency. How can we end violence and ease the pain? A question for each of us to ponder as we strive for peace and hope for our world.
One thing we can do is chose our words carefully that offer hope and light during these dark times. We must be mindful not to be influenced or manipulated by gaslighting newsfeeds, social media posts, and other communication platforms that fuel violence and conflict to encourage polarizing actions. Let us be driven by compassion for all those who are suffering.
In this issue of the Inclusion Bulletin, we invite you to continue learning about each other and working to connect across different backgrounds and perspectives. Check out the "Spotlight" section on Sal Parent Class of 2025, who grew up in a Hispanic and Islamic community. Learn more about the college's special focus on professional development training. I was thrilled to see many colleagues from across campus attending our recent Day of Learning event earlier this month. I want to extend a special thank you to Molly McKean and her HR office staff and Paro Pope in ODI, who helped bring about such a worthwhile program to SAC employees. We hope to do it again in the spring!
We invite any Anselmian with ideas after reading this issue of the bulletin to reach out. I promise to connect them with ways to expand our community compassion and community learning now and in the future.
---
Spotlight on Diversity
Where is home for you? My home is Boonton, New Jersey. It's a small, diverse, working-class town with a large Hispanic and Islamic population. I was fortunate to grow up in a town that respects each other's cultures and, in fact, celebrates them by supporting all of the small restaurants in Boonton on social media and in the local newspaper.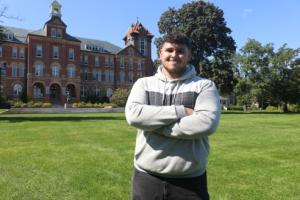 What do you think the college is doing well in terms of progress on diversity, equity, and inclusion? Currently, our college has taken several initiatives to enhance diversity on campus, including programs that highlight underrepresented communities. I have been involved in The Hilltop Academy summer program since my very first days here at Saint Anselm. I think the program is doing a great job and showing students that the greater NH community is more diverse than just what they might see on campus. 
Where would you like to see the college focus to do better? Suggestions for greater partnerships? 
Of course, every campus can do more to be more inclusive. We can work as a commu-nity to continue to establish more programs that showcase our diverse student body and establish networks to ensure that students, faculty, and staff have a sense of belonging within the college community. Diverse cultures help make our community stronger. 
How can you in your role on campus contribute to making Saint As a more inclusive community? 
As the Student Body President, I will continue to support diversity and inclusion pro-gramming and work with any student or faculty who wish to continue to grow the mindset of inclusion and celebration for our many diverse cultures at Saint Anselm. My administration is devoted to promoting campus wide respect for all. I would love to partner with others on campus to encourage that the art, literature, history, and other contributions of all cultures are known and understood. 
---
Did You Know?
Topic: Day of Learning: Professional Development
On Tuesday, October 10, the Office of Human Resources partnered with the Office for Diversity and Inclusion (ODI) to bring our faculty, staff, and monastic members together for a Day of Learning!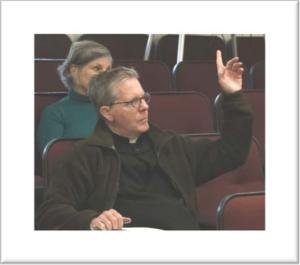 Under the direction from President Joseph Favazza and the College's Leadership team, SAC employees were encouraged to attend professional development sessions throughout the day to broaden and enhance their work and life. Fall sessions included:
AI and the Workplace with Professor Michael Huelsman and Steven McDevitt, CIO
Effective Workplace Communication with Molly McKean, Human Resource Director
Mindfulness in Life and Work with Jane Bjerklie-Barry, Director of Study Abroad
Listening to Student Voice, Responding with an Educator's Heart with panelists: Dr. Ande Diaz, CDO, Hannah Davidson, Disability Services, Christopher Lee, TRIO, Prof. Aubrey Scheopner Torres, Conversatio, and Siri Dabbi, Intercultural Center.
Overall the sessions were well-attended and many expressed that they appreciated the opportunity to gather and learn. Participants will receive professional development certificates documenting the classes they attend.
Although the Day of Learning was a one-day "pilot" program, SAC employees should keep their eyes out for additional learning opportunities being offered this fall. Currently, HR and ODI, are coordinating upcoming "Lunch & Learns" with various office around campus. See the "Happenings" section for more information.
Many have asked if we plan to have another day of learning event and the simple answer is — yes! The Day of Learning Planning Committee will again survey employees sometime in mid-January to gather topics of interest for a possible Day of Learning event in March or April. Stay tuned.
---
The Diversity, Equity, and Inclusion Action Plan
The Diversity, Equity, and Inclusion Action Plan is monitored by the President's Committee on Diversity & Inclusiveness (PCDI). The PCDI has 4 -working groups: 
Climate Assessment – is planning the full campus climate survey participation this winter. 
Professional Development & Training- is evaluating on-line trainings on Unconscious Bias and in person learning opportunities such as learning of new Bias Response Team improvements. 
Community Awareness & Communications – is developing an outreach plan to garner community input (deep listening to individual voices) as well as to keep the community well informed on progress and next steps related to DEI. 
DIIF (Diversity and Inclusion Innovation Fund) - is piloting a "rolling" application model/process, monitoring funds, and consulting on student and staff proposals. 
NEXT STEPS 
The next PCDI meeting will take place on November 16 and will be discussing the following topics: 
A focus on LGBTQ+ student feedback and ways the college can be more responsive. 
DEI in the Core and scholarships and financial aid. 
Questions on any of these PCDI working groups can be directed to Braima Salam (Psychology), Pamela Preston (Nursing), Saylor Garcia '24, Ian Durham (Physics) or to me at adiaz@anselm.edu to learn more about the college's DEI Action plan and be force for positive change! 
---
Happenings
Film Lineup: Diversity in Stem 
Thursday, November 30, at 7:00 PM Perini Hall: Community Cinema presents "The Man Who Knew Infinity", sponsored by the Intercultural Center. 
Other Events: 
Thursday, Nov. 2 at 12:00 PM IDI Brown Bag Lunch, w/Prof. Destiny Brady—Anselmian Learning Session
Tuesday, Nov. 7 at 2:00 PM Best Practices for Creating an Inclusive Campus Environment—Belong Program 
Tuesday, Nov. 14, at 12:30 PM Lunch & Learn Presents "Bias Response Initiatives", with Student Affairs. 
Wednesday, Nov. 29, at 4:30 PM Tea & Talk on "Inclusive Teaching" co-hosted with the Center for Teaching Excellence