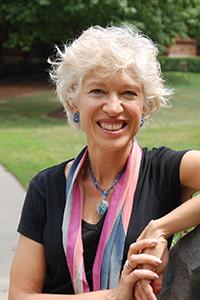 Dr. Ande Diaz joined Saint Anselm College in July of 2017 as the inaugural Chief Diversity Officer for the college. She provides strategy and resources on the implementation of initiatives to strengthen a culture of welcome and inclusion and to support efforts to bring greater diversity to the campus community.
Before coming to Saint Anselm, Ande served as Associate Provost for Diversity at Allegheny College and she has served in a variety of roles in higher education, including a researcher at Tisch College for Citizenship and Public Service at Tufts University; media, arts and public service career advisor at Harvard College; and assistant dean for multicultural affairs and interim director of the Pace Center for Community Service at Princeton University, and as director of the Intercultural Center at Roger Williams University. She has taught American Studies survey courses, first-year seminars and special courses such as "intergroup communication for a participatory democracy."
Ande's research areas include civic engagement, inter-ethnic alliances and intergroup dialogue. She serves on the board of The Democracy Imperative, a national network of higher education professionals and community practitioners dedicated to infusing deliberative democracy policies and practices into campus and community decision-making.
Ande credits her father (son of a Puerto Rican seamstress and a mentee of Dr. Kenneth Clark) and her mother (activist church friend of Bayard Rustin) with directing Ande's career path towards diversity and democracy decades before the role of "CDO" existed.
Ande holds a B.A. from Yale University, an Ed.M. from the Harvard Graduate School of Education and a Ph.D. in human and organizational development from Fielding Graduate University. She also holds a Certificate in Arts Management from the University of Massachusetts.
---
Publications
"A New Rubric for Assessing Institution Wide Diversity" co-authored with J. Kirmmse. Diversity & Democracy, Association of American Colleges & Universities, Summer, 2013.
"Sustained Dialogue and Civic Life: Post College Impacts" co-authored with R. Perrault. Michigan Journal of Community Service Learning, U. of Michigan. Fall, 2010 issue.
"Dialogue on Campus: An overview Overview of promising Promising Practices" co-authored with S. Gilchrist. Journal of Public Deliberation, Fall 2010.
"'I Was the One Percenter:' Manny Diaz and the Beginnings of a Black-Puerto Rican Coalition" co-authored with S. Lee.  Journal of American Ethnic History, July, 2007.
"Civic Engagement Assessment: Linking Action to Attitudes" co-authored with D.G. Terkla, L.S. O'Leary, N. Wilson.  Assessment Update published by Jossey-Bass May/June, 2007.
"Civic Engagement: a A study of changes Changes in College" co-authored with N. Wilson, L.S. O'Leary, and D.G. Terkla. Academic Exchange Quarterly, 2007.
"Pain Reduction," (poem) in Journal of Diversity & Social Justice, Fielding University, 2006.
The Harvard College Guide to Careers in Public Service, (book) pp. 296, 2000.