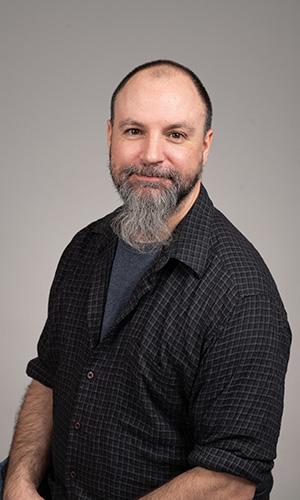 Mark Eshbaugh
---
Lecturer and Studio Technician
Education
MFA - Savannah College of Art and Design
BFA - University of Massachusetts Lowell
Most of my research is in photographic chemistry, including custom developer formulation, archival chemical print toning techniques, historic processes/methods, and more recently how digital technologies can work in conjunction with those techniques.
In 2006 I published a textbook on historic photographic printmaking processes titled, Alternative Photography Processes: A Worker's Guide. My photography and research has been included in several textbooks including Chrysotype: A Contemporary Guide to Photographic Printing in Gold (Contemporary Practices in Alternative Process Photography) 1st edition by Leanne McPhee, Exploring Color Photography 4th and 5th editions by Robert Hirsch, both editions of The Elements of Photography: Understanding and Creating Sophisticated Images by Angela Faris-Belt, Photographic Possibilities 3rd edition by Robert Hirsch, and Spirit Level by Arno Rafael Minkkinen, et al.
For the majority of my career I've focused on creating conceptual images split over multiple rolls or sheets of film in a variety of formats, visual narratives, and traditional large format film images and digital imaging. My photographs have been published in several monograph collections, Evermore (2010), Valles Centrales (2008), Day's End (2007), and Panoramics (2006).
My artwork has been included in solo and group exhibitions in galleries and museums worldwide. My artwork is in several public and private collections including the Photographic Center Northwest, the Municipal Photographic Library of Rues, Spain (XLIII Gaudi Medal recipient), the Savannah College of Art and Design/SCAD Museum, The Pinhole Resource Center, and Savannah Weston among others.
I have been a freelance graphic designer for many years and I am a hobbyist illustrator, painter, comic book artist/writer, and creative writer (primarily speculative, fantasy, and horror genres). I'm an ascap affiliated musician/songwriter who has written and released 40+ albums (most of them terrible and thankfully out-of-print or hard to find) and been involved in a number of other musical collaborations. I also had a brief appearance in the 2016 movie Ghostbusters by Paul Feig.
Prior to arriving at Saint Anselm, I taught all levels of Photography (traditional, digital, and historic/alternative processes), Filmmaking, Digital Imaging and 4D Design, 2D Design, Drawing, the History of Photography, and Web Design at Bridgewater State University and the University of Massachusetts Lowell (from which I was named the 36th Annual Independent Alumni Association Distinguished Alumni Award recipient in 2012), the History of Photography at Montserrat College of Art, the Art of Photography at Plymouth State University, the Elements of Design at the University of New Hampshire, and Graphic Design, Typography, and Digital Imaging at Anna Maria College. I've also taught several workshops in conjunction with museums and colleges in Mexico, Italy, Finland, Switzerland, and the United States.