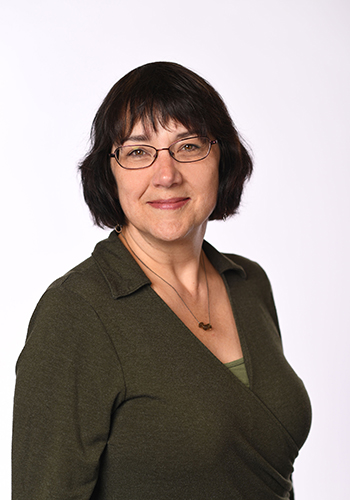 Education
1994 - Ph.D., Columbia University
1987 - M.A., Columbia University
1981 - B.A. with honors, State University of New York at Binghamton
Research and Background

Dr. Jennifer Thorn is an Associate Professor of English and director of the Interdisciplinary minor in Gender Studies at St. Anselm College. She works in the transatlantic eighteenth and nineteenth centuries, with a special focus on the history of childhood, class and race. The editor of the collection Writing British Infantcide: Child-Murder, Gender, and Print,1722-1859 (2003), she is at work on two book projects, parts of both of which have been published: Phillis Wheatley and Childhood and Blind Girls and Women: Print and Progress', 1795-1902.

She joined the English Department at Saint Anselm College in 2009, after teaching at Colby College and Duke University. While at Duke, she was awarded two teaching awards, one from Duke recognizing excellence in the teaching of seniors and one from the American Society for Eighteenth Century Studies for innovative course design, for a course on 18 century orientalism.

Courses taught include:

EN105 - Freshman English
EN106 - Introduction to Litersary Studies
EN235 - Early American Literature
EN236 - Eighteenth-Century British Literature
EN244 - Literature and Gender
EN341 - American Gothic
Independent studies in eighteenth-century literature; nineteenth-century American literature; sex trafficking and literature.

Selected publications

- "From 'Blind Susan' to Incidents in the Life of a Blind Girl: How Mary L. Day Disabled Domesticity," for book Disabling Domesticity being edited by Michael Rembis (Palgrave, 2016).

- "Violence, piety, Enlightenment, and Charles Brockden Brown's Wieland": Symbiosis 17, 2 (October 2013).

- "Roderick Random, literacy, and the appropriation of plebeian culture": Eighteenth-Century Fiction 24, 4 (Summer 2012).

- "Seduction, dead children, and Phillis Wheatley," Atlantic Worlds in the Long Eighteenth Century: Seduction and Sentiment, ed. Tita Chico and Toni Bowers (Palgrave, 2012).

- "Beyond representation: three stages of teaching the transatlantic eighteenth-century," in Teaching the Transatlantic, ed. Jennifer Frangos and Cristobal Silva, Cambridge Scholars Press (2010).

- "Phillis Wheatley's ghosts: the racial melancholy of New England Protestants," Eighteenth-Century Theory and Interpretation 50, 1 (Spring 2009), 73-99.

- "'All beautiful in woe': gender, nation, and Phillis Wheatley's 'Niobe,'" Studies in Eighteenth-Century Culture 37, March 2008, 233-258.

- "The work of writing race: Galland, Burton, and the Arabian Nights," in Monstrous Dreams of Reason: Cultural Politics, Enlightenment Ideologies, ed. Laura Rosenthal and Mita Choudhury (Bucknell/ Associated University Presses, 2001), 151-169.

- "'A race of angels': castration and exoticism in three tales by Eliza Haywood," in The Passionate Fictions of Eliza Haywood: Essays on Her Life and Work, ed. Kirsten Saxton and Rebecca Bocchicchio (Kentucky, 2000), 168-193.

- "'Althea must be open'd': Eliza Haywood, individualism, and reproductivity," Eighteenth-Century Women 1 (2000), 95-127.