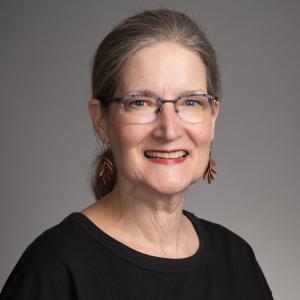 Education
B.A., Wellesley College (Religion and Philosophy)
M.T.S., Harvard Divinity School (Church history)
Ph.D., University of Toronto (Religious Studies)
My teaching in church history ranges across the whole of Christian history from the New Testament to the contemporary period. I have a particular interest in the history of spirituality and women's contribution to Christian tradition. My research interests focus on the development of the doctrines of the Trinity and the person of Christ in fourth-century Greek theology.
TH 100: Biblical Theology
HU 103/4 Conversatio
TH 253: Christian Spirituality
TH 280: The Early Church
TH 401: Theology Seminar (Gnosticism; Augustine)
In 2017, in collaboration with Dr. Markus Vinzent of Kings College London, I published a translation with the Catholic University Press of America of two important theological works on the Trinity from the 330s by Eusebius of Caesarea, an early Christian historian and biographer of Constantine the Great. I am currently working on two articles on a related topic, one of which is an entry for the Brill Encyclopedia of Early Christianity. I continue to have an interest in the spiritual writings of the 20th-century English Catholic writer Caryll Houselander and hope to be able to do original archival research on her in the US and the UK in the near future.
"Eustathius of Antioch on Jesus' Digestion" in Studia Patristica  (forthcoming)
"The Circumstances of Apollinarius's Election in Laodicea" in the proceedings of a conference devoted to Apollinarius sponsored by the University of Zurich in June 2011, to be edited by Prof. Silke-Petra Bergjan (forthcoming).
"Apollinarius and the Nicene Homoousion.' In The Cambridge Companion to the Council of Nicea , ed. Young Richard Kim (Cambridge University Press, 2021)
"The Kata Meros Pistis of Apollinarius of Laodicea: Introduction and Translation in Varieties of Nicene Theology in East and West (AD 360-420), ed. Mark DelCogliano and Lewis Ayres. Oxford/New York: Oxford University Press (forthcoming).
Eusebius of Caesarea, Against Marcellus and On Ecclesiastical Theology. Translated by Kelley McCarthy Spoerl and Markus Vinzent. Fathers of the Church 135. Catholic University of America Press, 2017.
"Epiphanius on Jesus' Digestion" in Studia Patristica 96/22 (2017): 3-10.
"Eustathius of Antioch on Jesus' Digestion" in Studia Patristica 74 (2016): 147-157.
"Caryll Houselander: Divine Eccentric and Prophet of Vatican II" in The Way (Jesuit journal of Christian spirituality produced at Campion Hall, Oxford University), 54: 1 (2015); 51-64.
"The Circumstances of Apollinarius's Election in Laodicea" in Apollinarius und seine Folgen, ed. Silke-Petra Bergjan, Benjamin Gleede and Martin Heimgartner. Studien und Texte zu Antike und Christentum 93. Tübingen: Mohr Siebeck, 2015: 3-33.
"Apollinarius and the First Nicene Generation." In Ronald Rombs and Alexander Y. Hwang, eds. Tradition and the Rule of Faith in the Early Church: Essays in Honor of Joseph T. Lienhard, S.J. Washington, D.C.: Catholic University Press of America, 2010: 109-127.
"Two Early Nicenes: Eustathius of Antioch and Marcellus of Ancyra." In Peter W. Martens, ed. In the Shadow of the Incarnation: Essays on Jesus Christ in the Early Church in Honor of Brian E. Daley, S.J. South Bend, IN: University of Notre Dame Press, 2008: 121-148.
"Athanasius and the Anti-Marcellan Controversy." Zeitschrift für Antikes Christentum 10 (2006): 34-55.
"Apollinarius and the Holy Spirit." Studia Patristica 37 (2000): 571-592.
"The Liturgical Argument in Apollinarius: Help and Hindrance on the Way to Orthodoxy." Harvard Theological Review 91:2 (1998): 127-152.
"Anti-Arian Rhetoric in Eusebius of Caesarea's Ecclesiastical Theology." Studia Patristica 32 (1997): 33-38.
"Apollinarian Christology and the Anti-Marcellan Tradition." Journal of Theological Studies  45 (1994): 545-568.
"Apollinarius and the Response to Early Arian Christology." Studia Patristica 36 (1993): 421-427.
"The Schism at Antioch since Cavallera." In Michel Barnes and Daniel Williams, eds., Arius After Arianism (Edinburgh: T & T Clark, 1993), pp. 101-126.
When not teaching or conducting research, I enjoy listening to early music, watching dance concerts at the Dana Center, learning craft techniques, and doing yoga and Zumba.